Zakopane, Poland Is The Skier's Budget-Friendly Alternative To Switzerland
Diana Lotti , Feb. 12, 2023 10:00 am EST , 937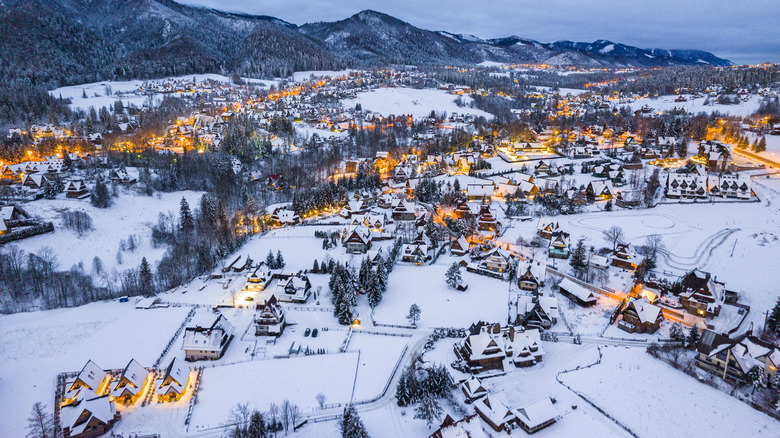 Known for its handmade pottery, traditional Pierogi, and being home to one of the most ancient and preserved forests in Europe (Białowieża), Poland is a destination with so much to offer its visitors. Nevertheless, it's often overlooked by European tourists in favor of flashier destinations. But it would be a mistake to overlook Poland. Especially if you're a budget traveler.
On average, Poland is a pretty inexpensive destination for tourists — especially if you know where to look. Lucky for you, we do. The Polish town of Zakopane in the Tatra National Park mountains does double-duty as both a destination for adventure seekers, as well as those looking for a good deal. If you're outdoorsy and on a budget, it just might be perfect.
Zakopane is just over Poland's southern border with Slovakia and is a UNESCO-recognized site. The Carpathian Mountains are the second-highest in Europe and they also happen to be a money-minded skier's savvy pick to offer all the powder at a much more affordable price than Switzerland.
Less budget, more bliss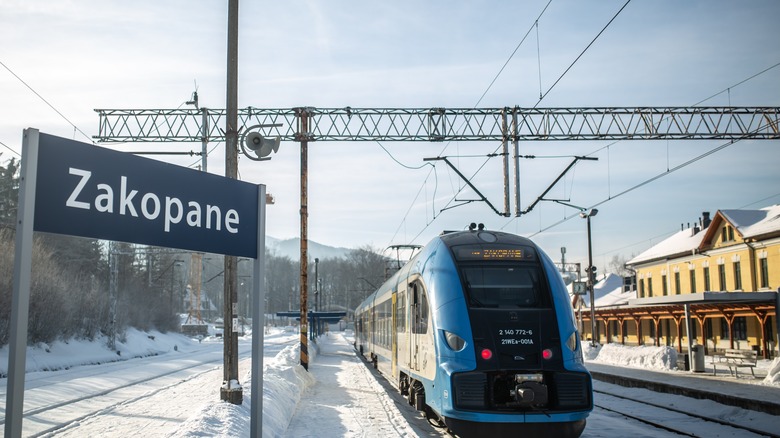 Everybody knows that terms like "cheap" and "expensive" can be pretty subjective, so you might be wondering how much you could save by ditching the glamour of Gstaad. According to Wild Kiwi Adventurer, Zakopane is a short and cheap bus (or train) ride away from Krakow. He shares that it took him about 2.5 hours (more Polish countryside for you to see) and only cost him €4.5 (less than $5, as of February 2023).
Once he got there, he found a private room at Gazdówka u Janka for only about $14 that could sleep two people. And while that's shockingly cheap by American standards, he found an even cheaper option if you're a single traveler who isn't hostel-averse, a room for the night could be had at Zakopane's Target Hostel for less than the equivalent of $8. And while grocery stores abound, you can grab a delicious bowl of goulash at Restauracja Pstrąg Górski for about the same price as a venti caffe latte at Starbucks. Alas, there's no Starbucks but we doubt you'll miss it. After all, there's so much more to do here.
A winter wonderland in the mountains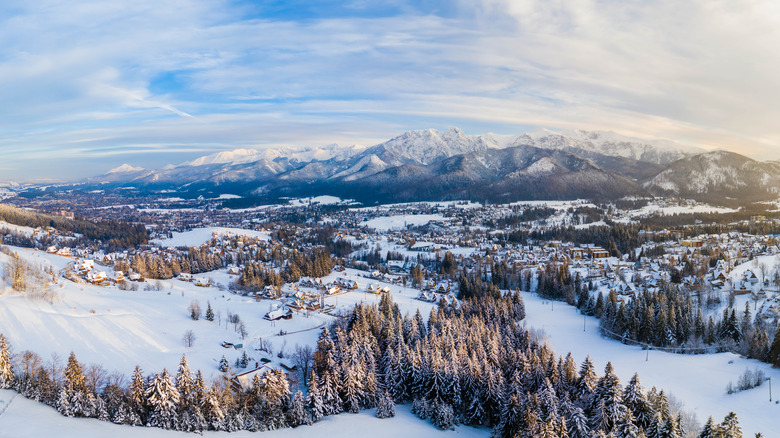 But let's move beyond budget and get to the good stuff. During the colder months in Zakopane, the mountains become a winter wonderland. If winter sports are what you love, Zakopane offers skiing and snowboarding options for all skill levels. Some of the best spots to ski include Kasprowy Wierch (accessible by two aerial tramways), Nosal (perfect for beginners), and Gubałówka Hill. There are also horse-drawn sleigh rides and ice skating but to really top off the frosty vibes, you can even go on a snowmobile tour.
Ready to wind down? Visitors can relax at one of the thermal baths nearby, including Terma Bukowina, Chochołowska Thermal Baths, and Aqua Park. The Chochołowska thermal bath is massive and its waters flow into 30 pools. Chochołowska also offers a spa, a sauna, a restaurant, and a sports center. And while it may not be the cheapest thing you do during your visit (we're still thinking about that goulash), its prices are transparent and reasonable. An all-day soak will only set you back about $25.