This Hotel's World-Famous Infinity Pool Offers Magnificent Views Overlooking The Amalfi Coast
Margherita Marullo , Dec. 9, 2022 10:57 am EST , 1,977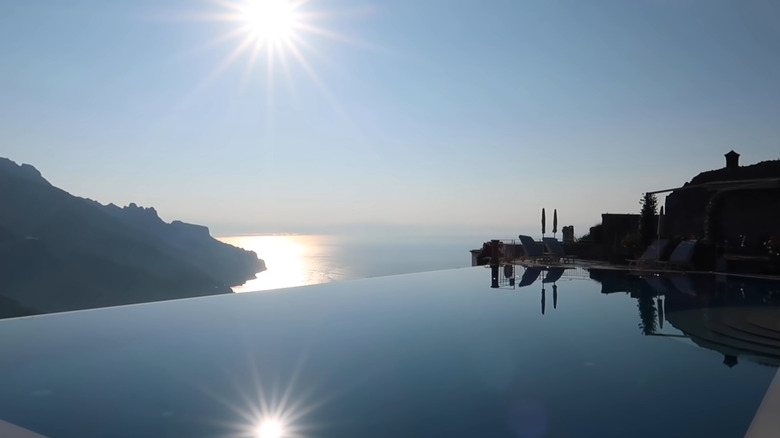 It goes without saying that Italy has to be one of the most beautiful countries in the world. Its boot-shaped form lends to some of the most panoramic and stunning landscapes one can bear witness to. From its mountainous regions, looming volcanoes, and steep, jagged cliffs that appear to plunge into the Mediterranean Sea — losing themselves within the crystal-clear, blue waters — Italy is a paradise unlike any other, and the mold was broken when it was created.
Take, for instance, the western coastline of Italy, particularly, the Amalfi Coast. A UNESCO World Heritage Site since 1997, its evocative landscape and beaches, ancient architecture, and unique art pieces lure millions of tourists every year to its magical coastline. And, with 13 towns and villages forming its paradisal make-up, the "Divine Coast," boasts some of the most spectacular villas and hotels perched high upon its sheer cliffs looking out towards the sparkling blue Tyrrhenian Sea. The resort village of Ravello, within the Amalfi Coast, is nothing short of heaven on earth: Its ancient beauty, and enchanted gardens unparalleled and timeless. One hotel along its rugged frame has found a way to accentuate its intoxicating surroundings, offering its clientele magnificent views overlooking the Amalfi Coast via its world-famous, infinity pool.
Ravello's crown jewel retreat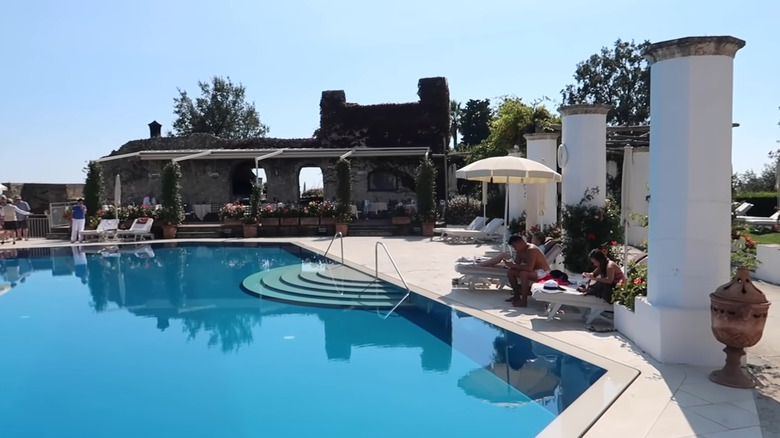 If you can imagine what the most ethereal, perfect accommodation could be while visiting the Amalfi Coast, the Belmond Hotel Caruso — in magical Ravello — is all of that and so much more. An 11th-century palace, its medieval yet luxurious structure, is the epitome of exquisite Italian design with its ancient frescoes, high arched ceilings, fine antique furnishings, exceptional dining experience, private beach, and romantic, heated infinity pool that provides the most breathtaking views of the Amalfi Coast.
Position yourself on the edge of the masterful infinity pool and feel as though you're one with the Tyrrhenian Sea and landscape. Don't be surprised to see your waiter remove his footwear, as he balances himself along its edge, walking towards you to serve your drinks as you take in the scenery. Experience a romantic dinner on a small platform large enough for two, as it floats atop its calm water while surrounded by stunning views. Take in the most incredible sunsets from its heated waters, and watch in awe as the golden-red beams of the sun forge the pristine coastline, and jagged, mountainous cliffs as its canvas: Painting an experience that won't soon be forgotten.
Making your way to heaven on earth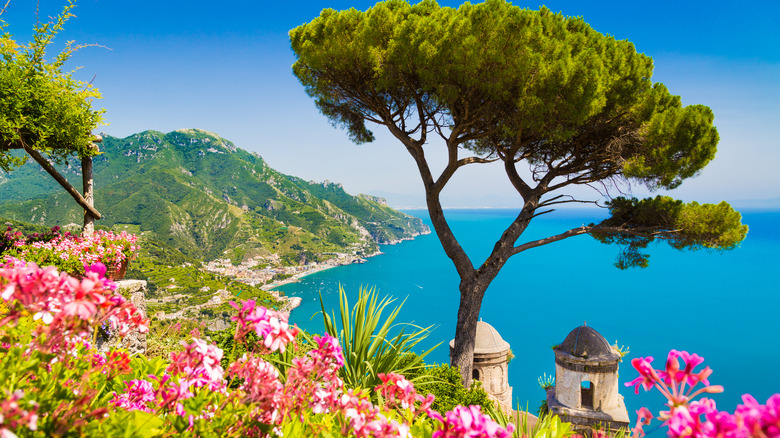 Ravello is known for its endless road curves and extremely scenic route along the length of the Amalfi Coast, providing one of the most unique driving experiences when traveling along Italy's west coast. Located at Piazza San Giovani Del Toro in Ravello, Caruso Hotel is easily reached from the Naples airport and its train station, with an approximate arrival within 1 hour and 30 minutes. From Positano, the hotel can be reached within 1 hour, and from Amalfi, it's a short 17-minute drive.
And, as Caruso — a Belmond Hotel — is perched 350 meters above sea level, be prepared to drive up a steep incline to rich its spectacular façade. Once there, immerse yourself in its beauty and tranquility. And, if you can pull yourself away from their world-famous infinity pool, feel free to make arrangements with them to take in the many other incredible experiences Ravello and the Amalfi Coast have to offer. Accommodation and dining reservations can be made directly from their website by phone or via email. It's also important to note that the Caruso Hotel closes during the winter season. Information regarding its spring reopening date is also available on its website.