How To See The Shipwreck Of Zakynthos, Greece Up Close
Diana Lotti , Feb. 12, 2023 2:00 pm EST , 1,574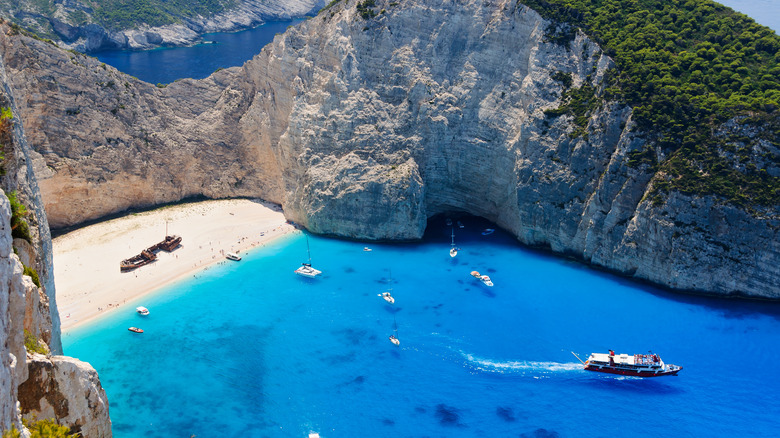 Navagio Beach, located on the western side of the Greek island Zakynthos is a stunning sight to behold. With white sands and crystal-clear blue water, this beach cove is surrounded by 650-feet-high limestone cliffs showing stunning views of the beach and its famous shipwreck, the MV Panagiotis. This haunting shipwreck is one of the most-visited and photographed shipwrecks worldwide and comes with its own fascinating bootlegging history. According to Greek Reporter, the ship was grounded in the sand in the 1980s, and some accounts mention that the goods it was transporting were allegedly of dubious origin. And while the captain and some of the crew were arrested, they were later cleared.
Known today as Shipwreck Beach, this little beach cove in Zakynthos has grown in popularity with tourists over the years. Thrill-seekers and daredevils visit Shipwreck Beach for base jumping, while others simply wish to enjoy and photograph the views or sunbathe in the white sand near the shipwreck. If you're planning on visiting one of the Greek islands, don't forget to include Zakynthos in your itinerary so you can explore this beach.
How to Get to the Navagio Beach in Zakynthos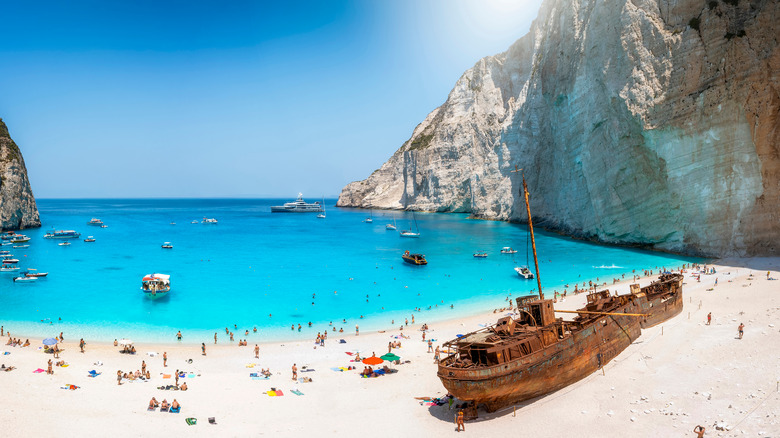 There are a few options to get to Navagio Beach. If you want to enjoy the view of the beach and shipwreck, you can go to the Navagio Beach viewpoint. You can rent a car, quad, or moped to reach the Navagio Beach parking and walk toward the official viewpoint platform. Another option is to use a bus tour, but keep in mind that these tours may not be able to give you unlimited time to enjoy the views.
You will notice that there are two viewpoint platforms: the official and unofficial viewpoints. The official viewpoint platform is small and has a fence to provide protection measures to onlookers. It only allows about 2-3 people at a time, so be ready to face waiting times. Other travelers may choose to visit the unofficial viewpoint at the end of the cliff, but it is not encouraged. If you do so, you will need to take safety precautions and proceed at your own risk since the area is dangerous and multiple life-threatening accidents have occurred in the past.
If you wish to enjoy the beach and see the shipwreck up close, you can choose a boat trip using a private boat or boat taxi. Some boat cruises may offer all-day tours that take you to Navagio Beach and the Blue Caves. You can set sail from Porto Vromi Maries or St. Nikolaos and enjoy a day of swimming, relaxing, and taking memorable photos.