The Complete Guide To Planning An Adventurous Trip To Turks And Caicos
Sanjay Surana , Jan. 20, 2023 10:13 am EST , 327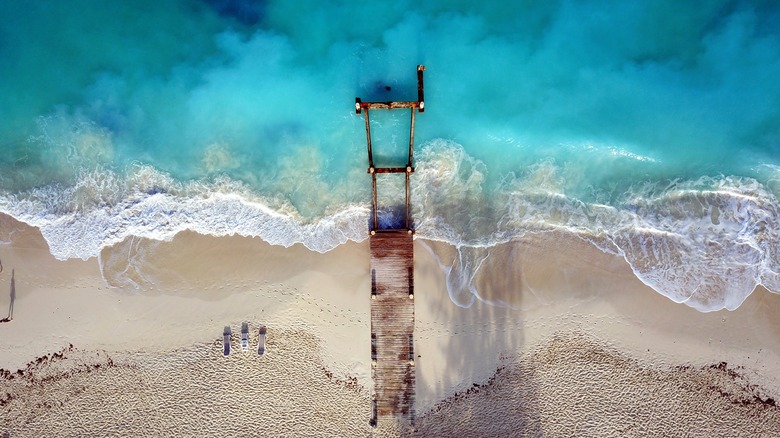 Often referred to as a Caribbean paradise, Turks and Caicos is actually in the Atlantic Ocean, a British Overseas Territory that comprises 40 islands located due north of Haiti and the Dominican Republic. The isles embody the image of tropical paradise, known for their dreamy, sugar-sand beaches that yield to crystal-clear turquoise waters, though less than 10 of them are inhabited. They are an easy escape from the United States, reached by direct connections from a number of U.S. cities; flights from Miami, for instance, take less than two hours.
Entry requirements are also simple — visitors aged 18 or above only have to show proof of vaccination, and there is no need for any special travel insurance or COVID test, as outlined by the Turks and Caicos Tourist Board. The islands themselves are predominately made of the porous rock limestone (via the Turks and Caicos National Museum), and don't rise especially high above sea level — but while the focus is very much on the beach and water, the islands do offer so much more. For travelers keen to spice up their island time with some outdoor adventure, Turks and Caicos has plenty to do, both on the tourist island of Providenciales, home to the main international airport, and beyond.
Glide along the shallows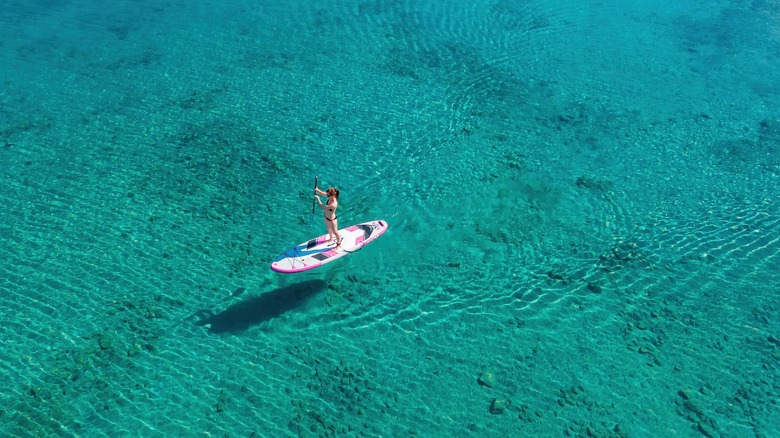 Stand-up paddleboarding, in one form or another, can trace its roots back thousands of years, according to SUP World Mag. Yet the sport really only came into its own in the 1940s, in the Pacific island of Hawaii. Today it's recognized as giving practitioners a solid, full-body workout, but that doesn't mean this sport is reserved for the impossibly bronzed and fit among us. Anyone — adults or kids — with an interest in trying out SUP, as it's commonly known, will find Turks and Caicos an ideal location for a foray into the water sport. The waters here couldn't be more perfect for newbies — clear, calm, warm, and often shallow — while seasoned paddlers have a great number of places to float on the waves, as this blog by sports-gear manufacturer Stage illustrates.
Numerous outfitters offer paddleboarding tours, among them a mangrove excursion by SUP Provo that cruises around mangroves to reveal their unique eco-systems. A great alternative for families, the trips around Princess Alexandra National Park run by Rising Tide Tours take place on see-through kayaks.
Drink in a little avian awe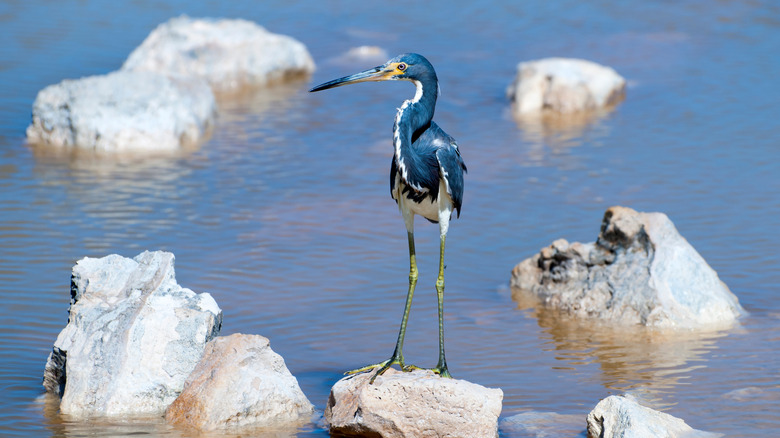 It's not just beach lovers that are drawn to these Atlantic islands — they also sit on the migratory route for water birds and are home to a number of resident species, according to the Virginia-based site Caribbean Birding Trail. Another birding resource, run by a British ornithologist, Fat Birder points to the 1990s gazetting of protected areas for birds that have made the Turks and Caicos a healthy stead for more than 190 species.
One of the best places to spot a variety of fowl in a compact area is South Caicos, a small island that is very walkable, and where adventurers will find a wide array of habitats, from salt ponds and marshes to mangroves and dry forests. This range of terrain allows the island to attract winged wonders such as black crowned night herons, kingbirds, and American kestrels (via Sailrock), as well as a colony of frigate birds in a small slash of greenery called Moxy Bush situated just off the main town, Cockburn Harbour (via Visit Turks & Caicos Islands).
Experience an aquatic rush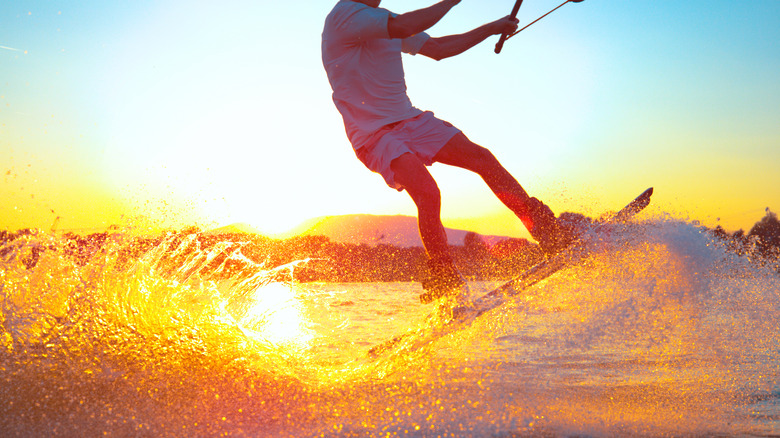 While the calm seas around the islands don't make them much of a draw for nature-powered, wave-riding activities like surfing, there are plenty of aquatic thrills to be had in Turks and Caicos. This is where visitors find a wealth of power-based water sports that capitalize on the open expanse of beautiful blue water, warm temperatures, and clear skies. The islands are a nirvana for wake boarding, waterskiing, and jet-skiing, with operators across the archipelago getting adventurers off land and on the sea, ready to get their hair wet and pulses racing.
Operator Wake To Wake takes thrill seekers out waterskiing, with novice skiers as welcome as accomplished water rats, and also offers wakeboarding, upping the ante in the speed and excitement stakes. Riders can also enjoy the bumps and shunts with less effort on a tubing trip, a great option for families that want to experience the fun/fear together.
For some seriously amped velocity, Mako Watersports takes riders out on private jet ski tours, including one around a shipwreck off the coast of Providenciales that participants can explore during the trip.
Plunge into a living aquarium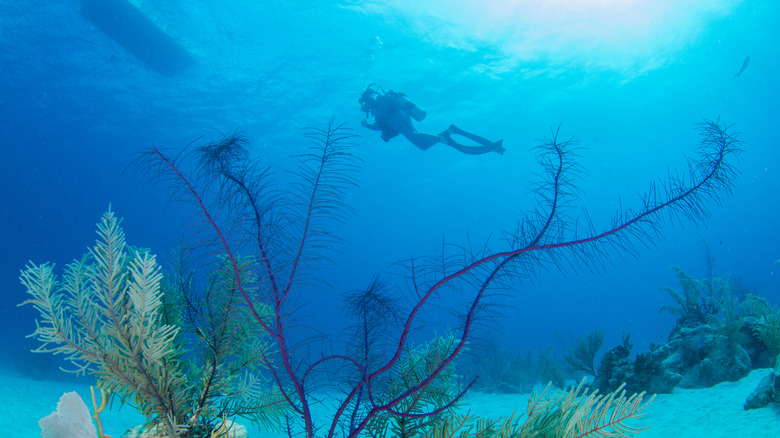 Simply put, the diving and snorkeling in Turks and Caicos are amazing. The crowd-sourced Snorkeling Report effusively praises the snorkeling in the islands, with sites accessible from the shore, water that promises excellent visibility, seas that are perfect for exploration most of the year, and aquatic life that includes angelfish, squid, and turtles.
Diving is equally rewarding, and there are many PADI dive centers across the islands, offering both training toward certification as well as diving excursions. The blog Dive Zone lists a handful of the best dive sites among the hundreds around the islands. Operator Aqua TCI takes a maximum of eight divers on its boats, and while dive sites near the shore are available, the best wall diving requires a boat trip of about an hour. Here, divers might see sharks and rays making their way round healthy reefs.
For anyone inquisitive in immersing themselves in the water with minimal equipment, a record-breaking Argentine instructor takes adventurers out free diving, her instruction spanning everything from an introduction to the discipline all the way to private trips on her boat Bonita.
Get high above the water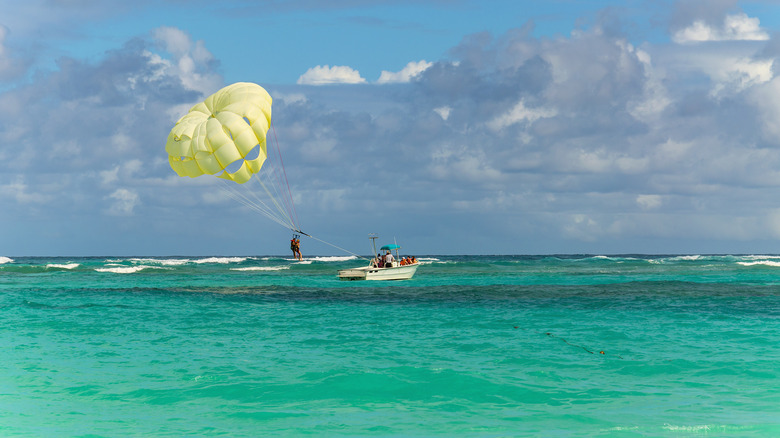 There is clearly plenty to admire on and under the water in Turks and Caicos. It's also pretty spectacular from above, a vast turquoise tableau stretching as far as the eye can see. Long Bay Beach, on the island of Providenciales, is the place to go kiteboarding in Turks and Caicos, a setting that the blog thekitespot.com extols for its dependable wind, calm, shallow water, and aquatic playground that isn't heavily populated with tourists.
Big Blue Collective can set up newcomers to the sport with a three-step instruction program or through private lessons, and also offers schooling to those that have a better handle on the sport. In addition, the outfitter takes riders out to a number of other, lesser-known spots around the islands.
For visitors that want to get a bird's eye vista of the islands' most famous beach — a stretch that's home to many luxury resorts — parasailing above Grace Bay is the way to go. Up to four people can fly together on a parasailing adventure with Grace Bay Watersports, making it a fun excursion for the family.
Snag your own catch of the day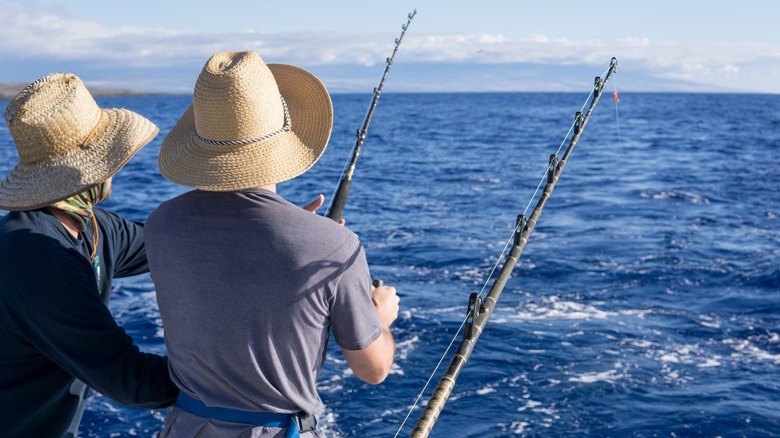 When the U.K. Government added parts of Turks and Caicos to its marine protection program Blue Belt in mid-2022, it afforded the already healthy waters around these islands an added layer of conservation. The vitality of the ocean and reefs here have helped to ensure that the region has plenty of fish — a boon to divers and snorkelers that like to observe, and also to fans of fishing.
The Turks and Caicos Tourist Board has a full page of fishing operators on its website, showing the popularity of the pastime and its importance in the tourism business. Among them is Grand Slam Fishing Charters, whose options include reef fishing, and fish and snorkel parties. Perhaps the Holy Grail among its offerings is the deep-sea fishing, where travelers head out to waters 7,000 feet deep for a chance to catch albacore tuna, blue marlin, wahoo, and more. Charters are available from half-day to full-day.
Enjoy some local culture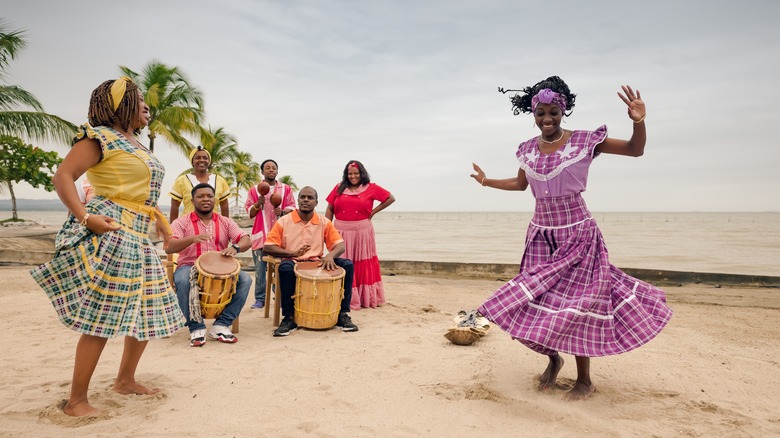 After a day out on the water catching some aquatic treasure, a perfect end to the proceedings is to sample some of the local marine riches. Held every Thursday from 5:30 p.m. to 9:30 p.m. at Bight Park on Grace Bay, the Island Fish Fry is a bonanza of seafood, music, and fun. It's a great way to let your hair down, enjoy fresh fish, and mingle with locals and fellow tourists. The setting is extremely relaxed, open-air and suitable for the entire family, and food comes courtesy of a number of restaurants from Providenciales.
Beyond the food, there are live performances by a roster of island musicians, shows by local dance students and troupes, and displays of crafts from Turks and Caicos. More than all these, the evenings forge a sense of camaraderie and unity, not least during the Junkanoo, or street parade, where members of the crowd get up to join the festivities under the stars, turning it into a night that won't soon be forgotten.
Wheels in motion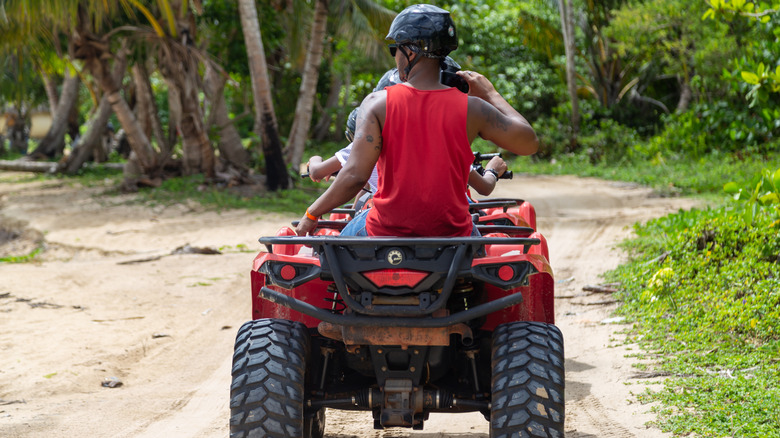 While the focus in Turks and Caicos is largely on the beach and the waters they kiss — and rightly so! — there is so much to explore inland. A number of options open themselves to adventurers that want to discover the islands' inner beauty. Squat four-wheelers are the mode of transportation on trips with Froggie's Ultimate Tours, where ATV riders on one- or two-hour tours get to see the less-touristed parts of Providenciales, such as Pelican Point, Malcolm's Road Beach, and inner terrain handily traversed by these all-wheel-drive vehicles.
For two-wheel exploration of Providenciales, Paradise Scooters conducts Vespa tours of the island. For those that prefer independent expedition, the agency has a fleet of scooters for hire, and a stack of maps and brochures (on various island attractions) that will help travelers stitch together an itinerary.
If you prefer to travel around the island using your own power, Caicos Cyclery has road bikes, mountain bikes, and hybrid two-wheelers for rent or for use on its tours that take visitors around the peaceful roads of Provo.
Swing away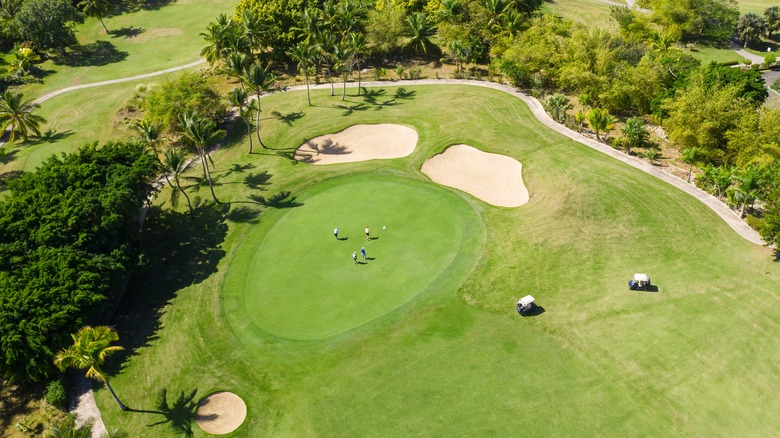 Karl Litten might not be a household name, but the golf course architect has designed courses in Europe, the Middle East, Asia, Australia, and the United States. He is also the mastermind behind the 18-hole course at the Royal Turks & Caicos Golf Club, rated as the top Caribbean course for 2023, according to USA Today. The only course in Turks and Caicos, and located in Providenciales, it can trace its beginnings to 1989, when the local water authority earmarked funds toward its creation. Three years later, in November 1992, the first golfers teed up and the club has since gone from strength to strength.
Among the highlights are a tricky Par 4 Hole 14, with shots taken into the wind, two water hazards, and a green guarded by a bunker and a lake. Rates differ depending on the season — summer is markedly cheaper than winter — and players receive a substantial discount for multi-day, weekly, and monthly passes. In addition to golf, the club also has a tennis academy and offers lessons.
Have a whale of a time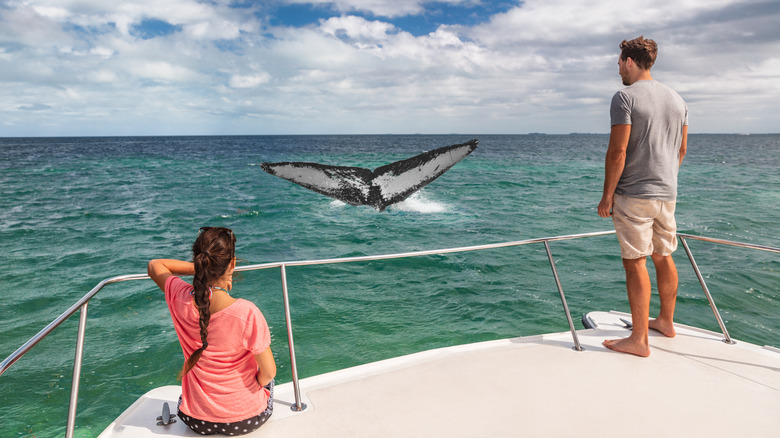 From December to March/April each year, humpback whales pass through the islands at they migrate to the Dominican Republic — their winter birthing place — according to the Turks and Caicos Tourist Board. The part of Turks and Caicos where these huge mammals (that can grow to more than 60 feet) are most frequently seen is Turks Island Passage, a broad body of water that separates the Caicos islands to the west from the Turks islands to the east (via the National Oceanic and Atmospheric Administration). The whales live almost a century, and are found all over the world.
On whale-watching boat trips with Deep Blue Charters – which run from January-April — an onboard marine biologist helps guests understand and appreciate these giant creatures, and tours can be half- or full-day. For an even more personal encounter with the whales, Salt Cay Divers lets intrepid adventurers get in the water near the mammoth mammals, snorkeling alongside them for an experience that will generate a lifetime of memories.
Catch some rays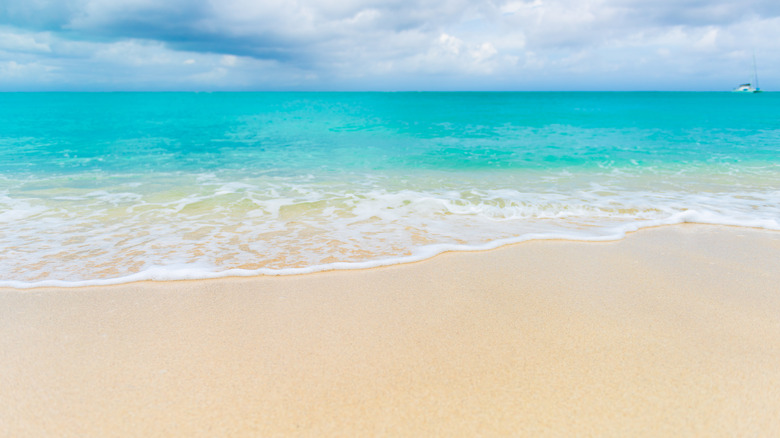 Sometimes all that activity can be just, well, a little too active, and even the most A-types among us need a break. When all that exertion gets a little much, the islands have the perfect place to decompress and recharge — the beach. This scattering of islands is blessed with some of the finest beaches on the planet, spread over a range of isles, so beach lovers can find their own special slice of waterfront paradise.
While, strangely enough, the Turks and Caicos Tourist Board doesn't have much information on the territory's fabulous strings of sand, the meta-site Beachsearcher has a thorough rundown on the finest of them across the islands. Beyond the site's ratings on each beach, and what that beach is good for, the pictures themselves are sure to stir wanderlust in any online surfer. Visitors here are clearly spoiled for choice when it comes to fantastic beaches, but a special mention must go to Grace Bay on Providenciales, voted the top beach in the world in the TripAdvisor Traveler's Choice 2022 Best of the Best. What more can you say?
Walk that way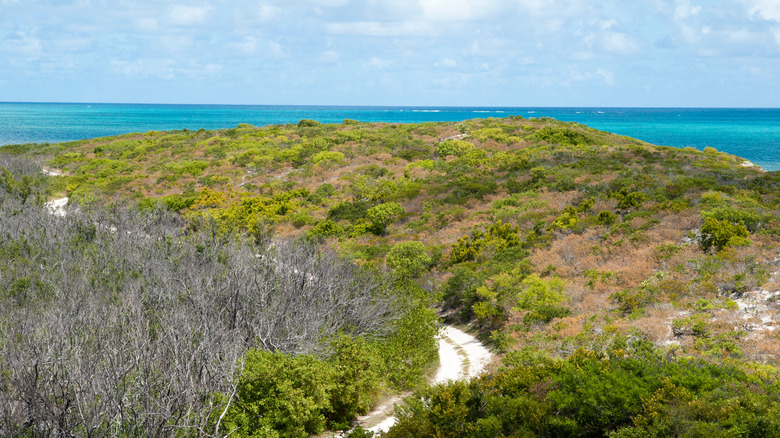 The most famous hike on the islands is the Bird Rock Point Trail, the only official hiking trail in Turks and Caicos, located in the southeastern part of Providenciales. It's a place of fine natural beauty, set between houses, a conch farm, and turquoise shallows known at the Caicos Banks. In an island that's popular with tourists, this patch of undeveloped, untrained land is a rarity, encompassing ecosystems like mangroves, rocky outcroppings, quiet coves, and indented coastlines.
The trail, however, isn't the only place in Turks and Caicos for a ramble, and adventurers will find a number of other good options for places to discover on foot. Also in Providenciales, Northwest Point National Park lies, as its name suggests, at the island's northwestern tip, and while it's great for birdwatching, walkers can wander around saline ponds, coastal limestone cliffs, and admire beds of seagrass offshore, all in an area that's blessed with few tourists (via Best of TCI). For visitors to other islands, AllTrails has a review of hikes on destinations like North Caicos and Grand Turk.
Explore a bat cave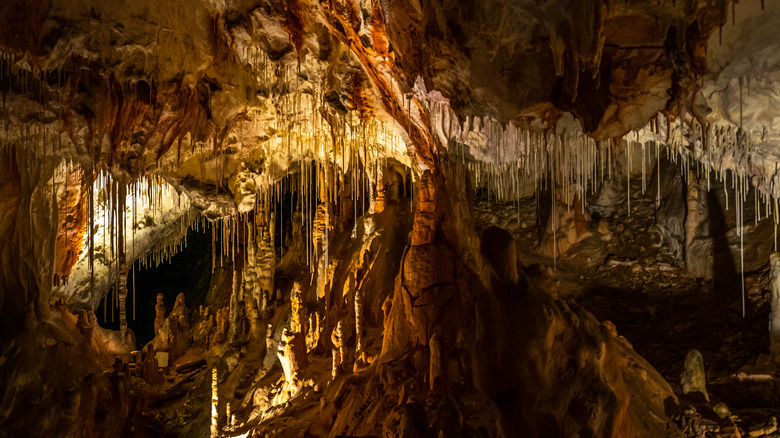 While the vast majority of tourism activity and infrastructure is centered on Providenciales, according to the Turks and Caicos Tourist Board, the largest island in this British overseas territory is actually Middle Caicos. That island is a quiet place, firmly off the tourist radar, and accessed from Providenciales by ferry and car transfer, making getting there an adventure in itself. What the island is notable for is the Conch Bar Caves and its impressive geological formations and caverns, home to a large number of nocturnal mammal inhabitants.
One of the foremost caves in the region, this complex has 1.5 miles of subterranean structures, tidal waterways, and of course plenty of bats. The Turks and Caicos Department of Environment and Coastal Resources notes that bats are the only indigenous mammal still in existence on the islands, and as such carry significant historical merit. It also explains in detail the times that the four species of bats — including the Cuban Fruit Bat — leave the Conch Bar Caves, a fascinating nugget of information that visitors can use to impress their traveling companions.
Toast during a sunset cruise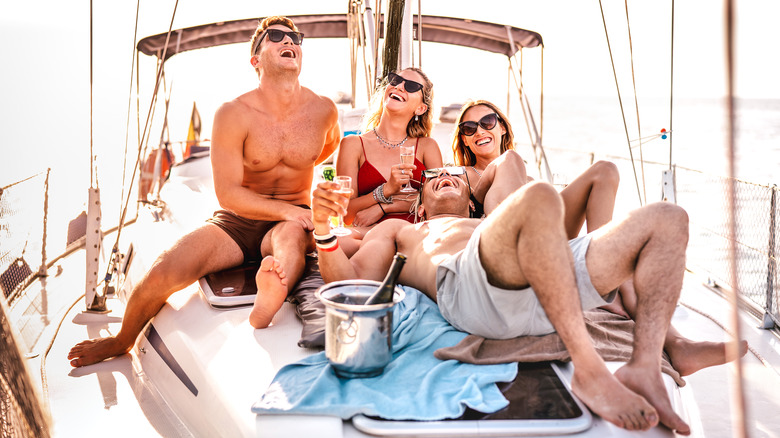 Turks and Caicos isn't a huge place, with the sum total of only 367 square miles of land area (via WorldData), making it not much bigger than New York City and its 305 square miles. But the various islands are separated by expanses of water, including the 22-mile broad Turks Island Passage that divides the Caicos and Turks island clusters. This means there is plenty of gorgeous water to explore around Turks and Caicos, and a gloriously pleasurable way of seeing lots of it is via a sail boat. Given the ubiquitous water culture around these islands, boat charters are not difficult to find or arrange.
The trips offered by Sail Beluga include a morning excursion as well as afternoon and all-day sailings that take in a sunset, often accompanied by rum punch. The ship is a 40-foot catamaran and trips are always private charters, so travelers can set any itinerary to their whims — a sail here, snorkel there, time on the beach, tack toward the horizon — making them captains of their own adventure.