Everything You Need To Know Before Going On A Disney Cruise
Matt Berry , Dec. 31, 2022 11:00 am EST , 608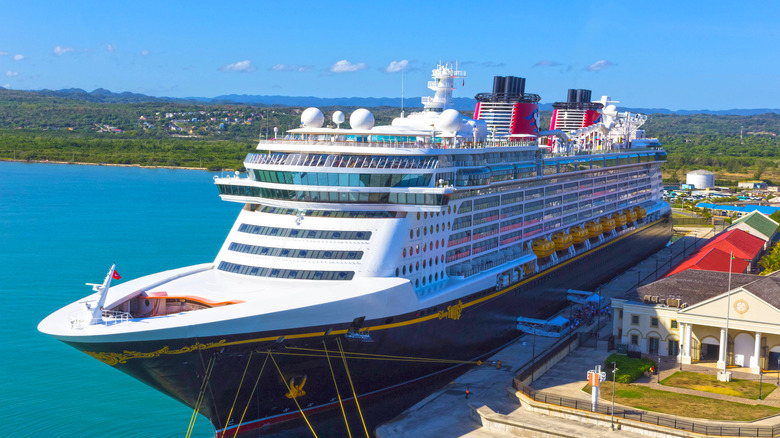 Although the COVID-19 pandemic temporarily moored the cruise industry, Forbes reports the industry still remains the fastest-growing travel sector. And it's not hard to understand why. Maybe it's human nature to sail away from the hassle of mainland reality. Add a few cocktails, pool loungers, nightly entertainment, and all-inclusive meals to this engrained instinct, and, whelp, bon voyage.
Disney Cruise Line takes these appealing aspects of a cruise and then sprinkles its Disney-magic on it. From the intuitive concierge services and top-class entertainment to adult-friendly amenities and unbelievable kid's programming, Disney Cruise Line is an excellent option for seafaring vacationers, especially families. If Walt Disney World is the "Most Magical Place on Earth," then Disney Cruise Line sails this magic over the sea's horizon.
In case you're still "not on board" yet with a Disney cruise, we've compiled five insider tips to help you with your decision. For some, the Disney brand and a cruise vacation may not seem compatible, but after experiencing one, even cruise aficionados tend to agree — Disney and cruising aren't just compatible, Disney cruises are indeed magical. And if you've already decided to sail with The Mouse, we've added five bonus tips to enhance your experience.
Disney cruise itineraries are more diverse than you'd think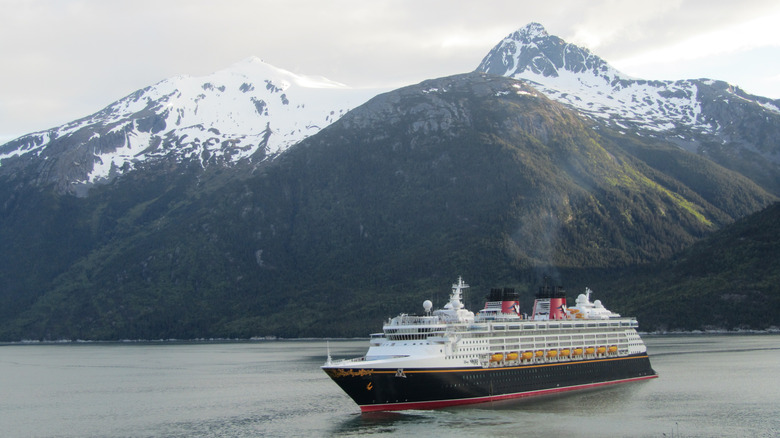 Many imagine that a Disney cruise involves flying into Orlando, transferring to Port Canaveral, cruising around the Caribbean, and then ultimately returning to Orlando. In the past, you probably wouldn't be wrong. Disney has long focused on this exact itinerary. However, Disney has begun to expand its horizons, literally.
According to The Points Guy, along with its well-known Caribbean and Bahamas itineraries, Disney Cruise Line now sails to the Mexican Riviera, Bermuda, Europe, and Canada. Disney Cruise Line currently operates five ships, making it one of the smaller cruise fleets. However, two new Disney vessels are scheduled to set sail in 2024 and 2025, respectively, which may expand Disney Cruise Line's destinations even further.
However, if you do choose to take the popular Disney cruise through the Caribbean and Bahamas out of Port Canaveral, then opt for Disney Ground Transportation from the Orlando airport. While this bonus tip may not be the most cost-effective, it's definitely the most convenient.
According to Magic Guides, Disney Ground Transportation means your checked luggage will magically appear in your stateroom. All you'll need to do is land in Orlando, get on the transfer shuttle, and locate your room on the ship. Bibbidi-bobbidi-boo, your luggage will be waiting.
Dining options are varied and (mostly) included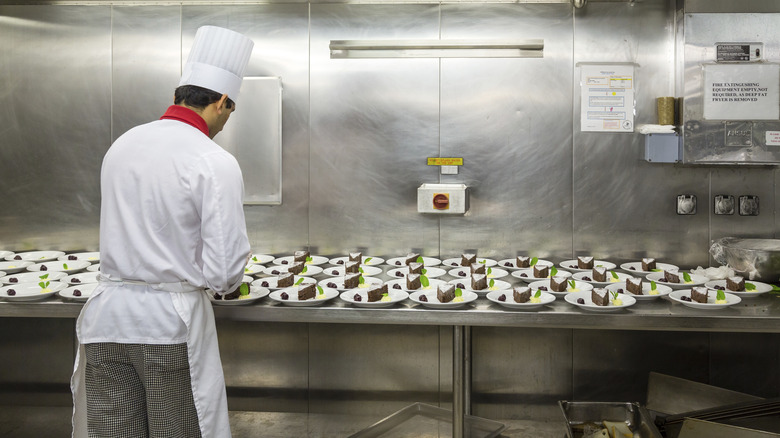 While most cruises are billed as "all-inclusive," the term "all" does heavy lifting in some situations. You'll eat for free on most cruise ships, as long as you choose to dine at specific buffets or in main dining rooms. On Disney cruises, you'll eat at a different venue for dinner each night on a set schedule, per Cruise Critics.
You can also grab quick bites, such as pizza, burgers, and deli sandwiches, from counter eateries and buffets. In addition, Disney provides sodas for free, which isn't the standard for most cruise lines. If you'd like to schedule a romantic dinner one night, however, then you'll need to pay extra to eat at an adult-only dining venue. Also, ice cream, specialty coffees, and alcoholic beverages are not included in the price of the cruise.
However, as a bonus tip, Disney is one of the few cruise lines that allow you to bring alcohol aboard, according to DCL Fan. If you're over 21, you can bring up to two bottles of wine or champagne or a six-pack of beer.
You won't suffocate on Disney pixie dust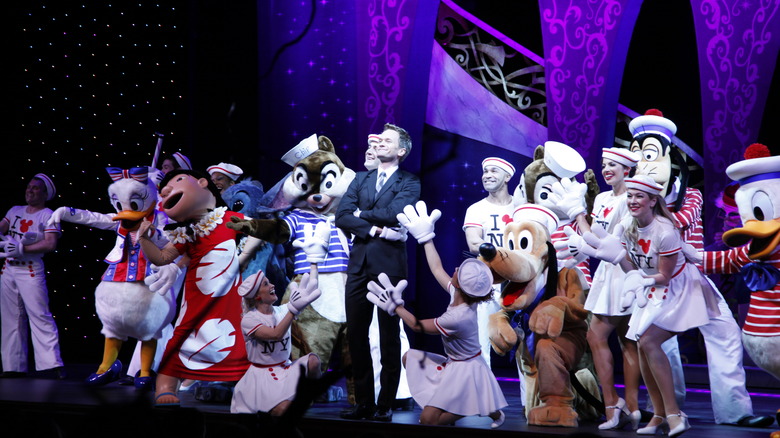 Disney Cruise Line is still Disney, and their whimsical universe does surround you. However, the atmosphere isn't suffocating. In a fairly admirable balancing act, Disney is able to combine kitsch with class, and there's a certain subtlety to the Disneyfication of the cruise. For instance, you'll notice hidden Mickey Mouse logos, chandeliers of glass slippers, and of course, the Disney-themed dinners, but nothing is overbearing.
And, honestly, it is still Disney in the best possible way. As far as entertainment value and production quality, the (very) Disney shows are absolutely riveting — for both adults and kids. If you've ever sat through a pretty cringe-worthy cruise show, then you'll welcome the production resources and entertainment expertise of The Mouse.
As a bonus tip, you'll receive an itinerary of character meet-and-greets each day, according to Disney Insider Tips, and the lines at these scheduled events aren't typically long. That said, you'll also randomly spot characters on the boat throughout the cruise, such as a sleepwalking Goofy. Again, Disney characters aren't around every turn, but if your family does encounter a pool-lounging Lilo or dancing Donald Duck, feel free to say "hi" and snap a photo.
Kids of all ages (and teens) are catered to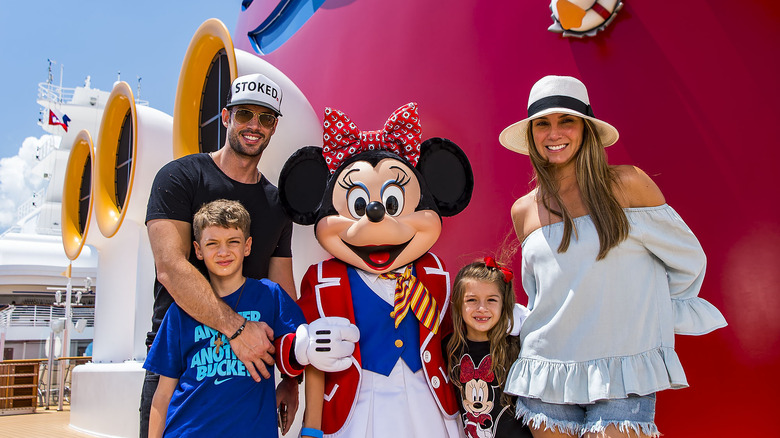 Somewhat unsurprisingly, the U.S. News & World Report has ranked Disney Cruise Line as the best choice for families. While, of course, Disney is synonymous with family-friendly entertainment, Disney offers top-notch youth programming on their cruises as well. But the programming isn't reserved for only the youngest Mouseketeers in your troop.
Along with various character experiences and kids-only areas, the cruise line offers supervised programming for four different age groups, per Disney Cruise Line. You can register children under the age of three for the Small World Nursery, while the Oceaneer Club is reserved for children aged 3-12, which offers age-appropriate activities throughout the day.
Supervised programming is also available for older kids and teenagers. Kids aged 11 to 14 can access the Edge lounge, while teens aged 14 to 17 are invited to the teenage lounge, Vibe. In both supervised lounges, younger passengers can play video games, watch movies, hit the dance floor, sing karaoke, and meet other young castaways.
As a bonus tip, on the Dream and Fantasy ships, the onboard Vibe lounge includes a private sundeck and teenager-only splash pools located all the way at the front of each ship (arguably, top-tier real estate). This may help if your teenager requires a bit of convincing to take a family cruise.
Disney cruises can also be magical for adults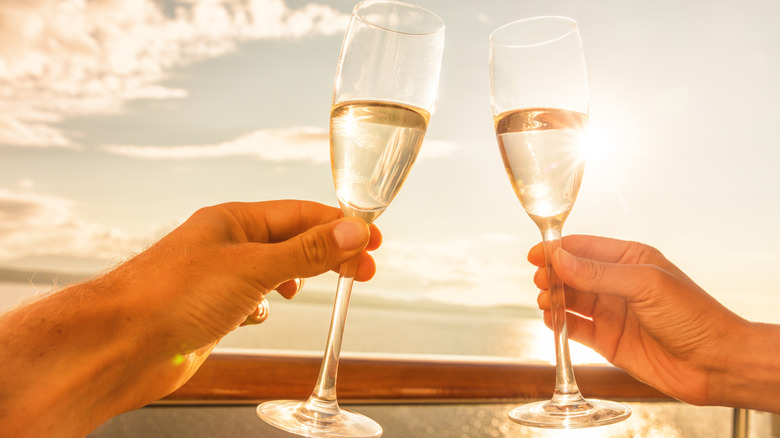 Finally, if you're considering a family cruise with Disney, you should understand one thing — Disney definitely caters to its adult passengers. The idea that Disney cruises are entirely child-centric is a common misconception, leading some parents (who also want a vacation) to completely dismiss the option.
Really, the cruise line's dedication to quality, supervised programming for kids underscores Disney's dedication to the parents. Much like its age-appropriate activities for kids, Disney provides the same consideration for adults.
According to Disney Cruise Line, all Disney ships feature sophisticated cocktail lounges, stylish dance clubs, adults-only restaurants, as well as fitness centers and salons reserved (and designed) for adult passengers. The ships also boast a Quiet Cove Pool, which consists of adult-only sundecks, tranquil pools, and soothing whirlpools.
As a bonus tip, kids' supervised programming can actually last until midnight or 1 a.m., meaning you can find that carefree cruise experience that awaits you right over the horizon — even with Mickey at the helm.