The 5 Essentials Backpackers Frequently Forget To Pack
Matt Berry , Dec. 16, 2022 12:14 pm EST , 1,428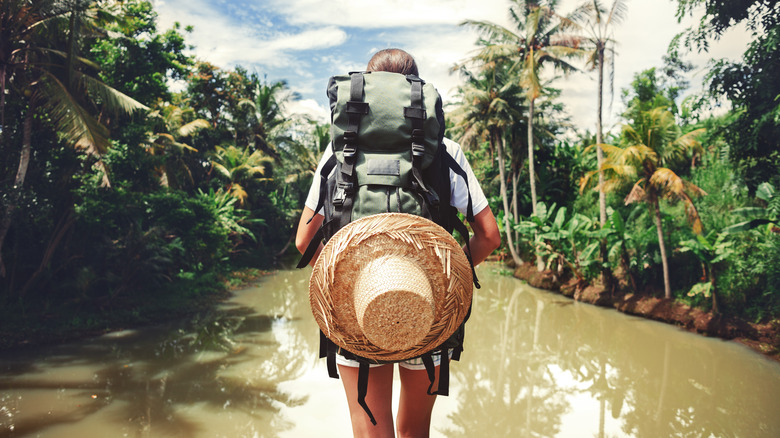 There are literally hundreds of "essential packing" articles on the internet, all written by a hundred different people. The items you ultimately consider "essential" will really depend on your travel habits, personality, and mode of travel. And while essential lists can be overall useful, let's be real. If you happen to forget sunscreen, you can usually buy sunscreen. And for some of us, our jeans aren't categorical fancy or daily-wearers.
But while traveling, some essentials can be hard to find, expensive to buy (typically because they're hard to find), or only deemed essential in hindsight. In other words, rain ponchos and portable chargers are only essentials after you're wet with a dead phone battery. While traditional travelers may always be one convenience store away from solving problems, backpackers should usually travel a bit more self-reliantly.
Three travel trends helped to inform this essential list — the rise of solo travel, intrepid travelers, and homestays. Airbnb claims that properties are now available in over 220 countries, and it's no surprise that backpackers are increasingly booking them, even if it's only for a night of roommate-less sleep. In addition, according to an article by National Geographic, travelers are increasingly opting to travel solo. Awesome!
When you combine solo travel, traveling off-the-beaten path, and the hit-or-miss amenities of a homestay — versus the traveler-friendly amenities of most hostels — then you'll begin to understand why some "essentials" really are essential.
Keep it clean and dry with a microfiber towel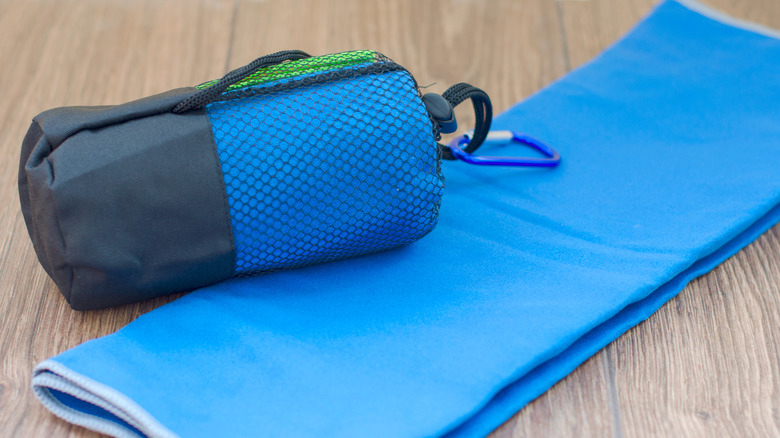 In this essentials list, the items can be generally placed in two camps: items you shouldn't forget and items you didn't consider. For most, a microfiber towel is the latter. However, the trial-and-error method of past experiences can help populate quality essential lists.
It's worth mentioning that a plain, old cloth towel is not a microfiber towel. Do not pack a cloth towel. While we understand not all hostels (or homestays) offer free towels, you'd be better off paying for a towel, air-drying as modestly as possible, or continuing to smell than drying off with a towel you brought.
First, cloth towels are super-bulky and take up precious backpack space. And after drying off and eventually packing that towel — no matter its level of dampness — you've now created a new, mildewy-smelling yucksack you'll continue to tote around the world.
Microfiber towels are incredibly fast-drying and packable. In most cases, microfiber towels will be completely dry after one night's sleep or 30 minutes in the sun. Wirecutter of The New York Times recently reviewed a bunch of microfiber towels, rating their durability, absorption, and yes, even smell. Spoiler alert, they all smell better than a two-day-old cloth towel. Choose one.
Stay plugged in with travel adapters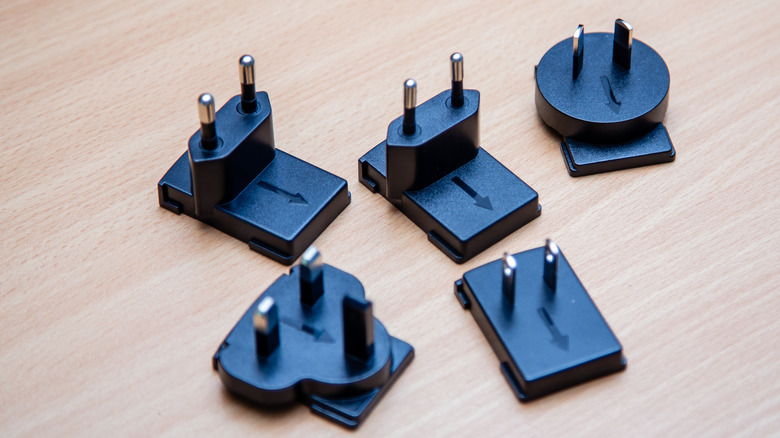 Until someone stops "Big Outlet" from shadow-governing our world, we're at the mercy of its prongy whims. According to World Standards, there are roughly 15 different types of outlets that necessitate different plug configurations throughout the world. It's a variable jazzfest of shapes, voltages, dimensions, and headaches.
If you're traveling in one distinct region or within one country, then one international adapter may be enough. That said, the countries in Europe, in particular, seem to celebrate their plug-in independence. Of course, the outlets in France and the UK are different. And because it's Switzerland, the Swiss use a three-pronged plug found exclusively in Switzerland. If you're sleeping at a homestay in one of these countries, you'd be hard-pressed to locate an adapter. After all, the house's appliances are plugged in just fine.
While some sockets are compatible with different plugs, others continue to stand fiercely independent. Fortunately, in a bid for world peace, Wired recently rated the best universal adapters, which will charge your gadgets no matter what borders you cross. For backpackers on a night bus, you'll sleep easier knowing you're pronged and prepared.
Stay connected with portable chargers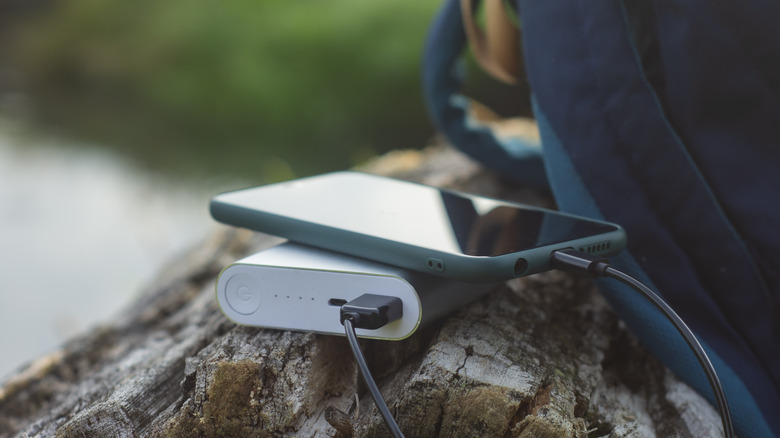 One of the great things about backpacking is you're untethered to a particular place. In its essence, backpacking is an exciting, on-the-go way to travel. And "on-the-go" doesn't necessarily mean rushing. It simply means spending more time on the road than the traditional traveler. If a traditional traveler goes from Point A to Point B, then a backpacker may incorporate the rest of the alphabet to do the same.
When you're on the road that much, a portable charger can be a lifesaver. Not every bus station will have a phone charging bank (or outlet on the bus), and not every airline will feature a USB port or outlet. For example, Southwest does not feature outlets on their planes, nor do many smaller and regional airlines. If you have a portable charger, then it's a non-issue.
Also, according to a survey by Hostel World, 33% of travelers are now veering off the beaten path. For intrepid travelers on these routes, an outlet may not always be readily available, but a charged phone can be a lifesaver when exploring.
Protect your world with rain gear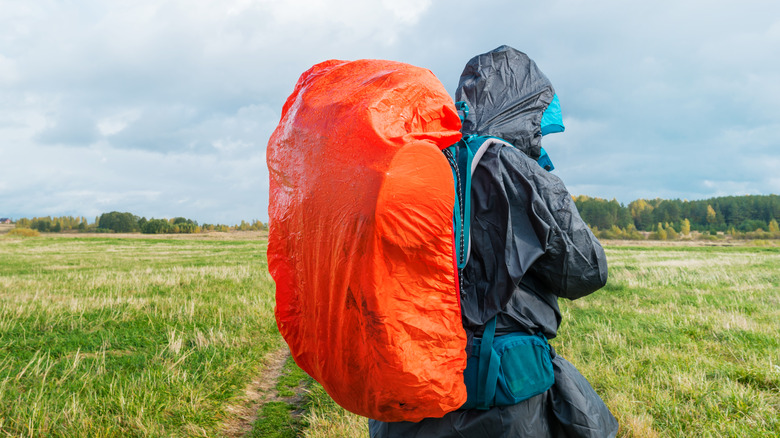 Rain happens. And when you're a backpacker, it only happens when you're in the middle of a two-mile walk from your destination. It's science. Although we can't always outrun the rain clouds, you should try to stay as dry as possible, even when impossible.
If you're backpacking in colder climates, then you probably already packed a jacket. As long as it's waterproof and breathable, then you are all set. If you're packing for warmer climates, then a portable travel poncho should suffice. USA Today also recommends bringing waterproof boots. If you're wading into Southeast Asia's monsoon season or a Guatemalan summer, then maybe. But unless water-resistant boots are your everyday kickers, then think twice about UGG-lugging. Boots are big, heavy, and hard to pack.
However, you should definitely invest in a quality waterproof backpack cover. After all, you're essentially carrying your whole life on your back. If you get a little damp, then you'll survive, but your laptop and phone may not.
Lighten your load with a day bag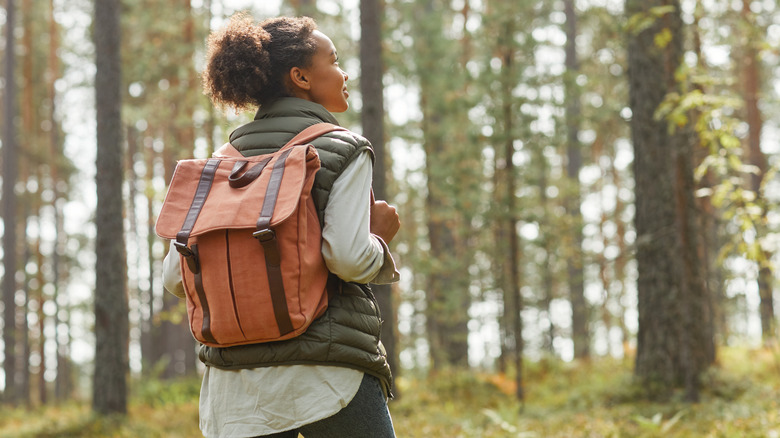 While backpacking to travel certainly has its benefits, it also has its drawbacks — namely, the backpack. After a day of traveling, there's absolutely nothing better than plunking your backpack onto the floor when you arrive at a destination. Nothing. However, you're still going to need something for exploring the area — a comfortable day bag.
There's a two-fold way to think of backpacking. Your main backpack carries the long haul of the trip's entirety, while the day bag carries specific stuff for day excursions. If you're part of the 33% of intrepid travelers, you may be taking multi-day excursions from a home base and require overnight items. If you're just on urban safari, then your valuables are probably safer locked up at a mainstay while you explore a new area. (You don't need to carry your passport everywhere you go.)
Whenever it's possible while backpacking, you and your lumbar will appreciate carrying a smaller and lighter day bag over your main bag, no matter how properly it's now packed.