Tips For Beating Downtime Boredom When Traveling Alone
Sera Parris , Feb. 14, 2023 2:23 pm EST , 684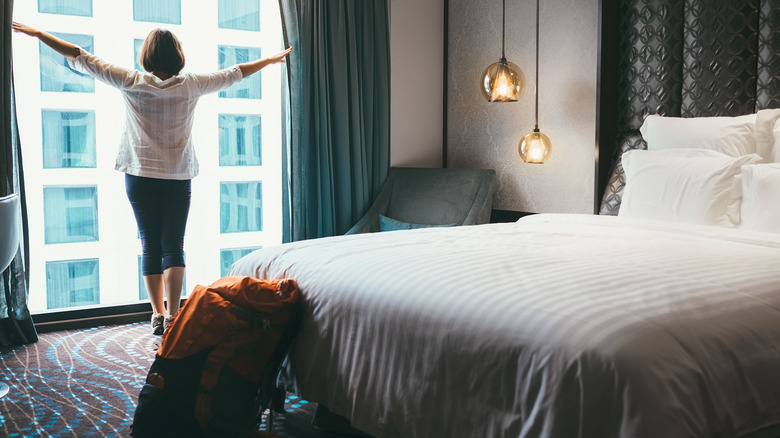 Making an itinerary for solo travel is a liberating experience, as all the activities planned are for you and only you. In fact, solo wandering comes with more than a few perks, including affordability, freedom, much-needed you time, and the opportunity to live life to the fullest with new friends and adventures (via Frayed Passport). While all of these accompaniments are great, eager travelers often overlook the downside of solo globetrotting. The truth is even if you cultivate an action-packed or dream getaway, there are still things that take newer solo explorers by surprise.
Commonly, feeling a little homesick at first, occasionally wishing someone special was enjoying your incredible trip with you, and sometimes finding yourself a tad bored are notable downsides (per Always On The Shore). But the good news is that after you get a few solo trips under your belt, you know you can plan for these instances. Take being homesick or feeling the occasional bout of loneliness, for example: Both are fleeting moments that can easily be remedied by socializing with others and checking in with someone back home. And when boredom strikes, especially during your wisely scheduled downtime, all hope is not lost, as there are a variety of things you can do.
Make new friends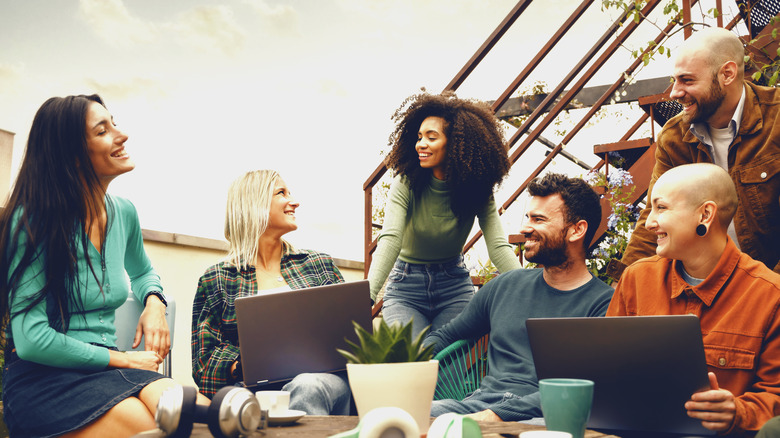 One of the quickest ways to turn downtime boredom into engaging fun is to mingle with others and make some new friends, which sounds fairly simple. If you are staying at a hostel, you can easily interact with other travelers by going into the common areas. Strike up a conversation with someone else (who may also look a little bored) and ask what activities they have enjoyed while visiting for inspiration. Travelers who booked other accommodation types can head down to the lobby or lounge. It is here that you will likely find other solo wanderers — or at the very least, you can get to know members of the hotel staff a little better.
Bored travelers should also consider joining a travel group online if they do not belong to one already. Joining an online travel page or group can help you brainstorm future travel plans, give you a forum to post your current adventures, and allow you to meet up with other solo travelers (with similar interests) in the same area. Plenty of groups are available that are great for the growing number of digital nomads and adventurous party-of-ones. For instance, groups such as Nomads, Girls Love Travel, GoWonder's Solo Female Travel Group, and more are all only a few clicks away (via World Packers).
Consider activities outside your comfort zone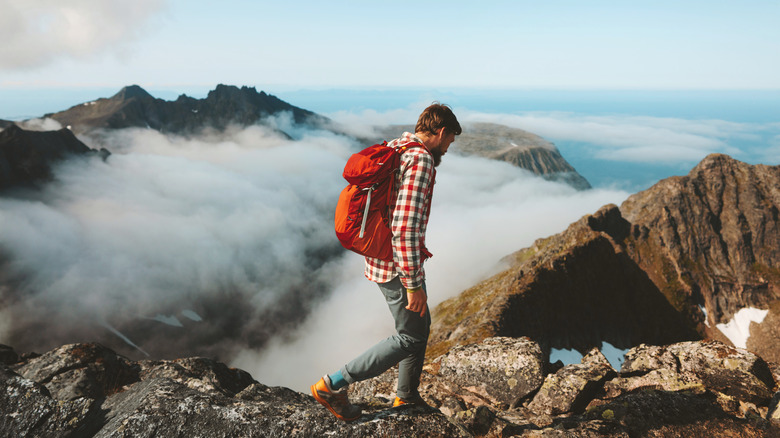 If you are one of those lone wanderers who do not like having idle time to themselves, then go back to the drawing board when boredom strikes. Maybe a few activities piqued your interest, but you decided against them when planning what your day-to-day would look like. Well, now is the perfect time to revisit those options, see what is available, and try something new — even if it is last-minute (via Mapping Megan).
There are countless apps and sites for booking activities that allow you to book same-day, when possible. If you can join the tour, outing, or hike of a lifetime on short notice, then there is likely no reason to sit idly by. In many ways, this is exactly what it means to travel solo and step outside your comfort zone. So don't let boredom get the best of you. Find an activity you are excited about — maybe even a little intimidated by — and enjoy. That said, if you are deathly afraid of heights or fear being up close and personal with the local wildlife, then now is probably not the best time to challenge yourself by scaling a mountain or going on a safari.
Check in with loved ones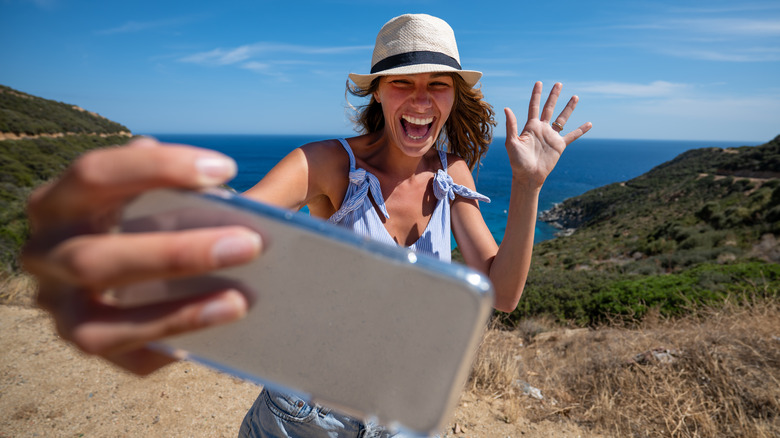 As a solo wanderer, you should always keep someone apprised of your whereabouts and scheduled activities for general safety reasons. But if you are feeling a little bored, then why not use this time to check in with or update a loved one (per One Travel Girl)? Not only will this make you feel more at ease being on vacation alone, but it will also give you a chance to tell someone about some of the amazing facets of your solo trip.
With hotel or hostel Wi-Fi services readily available, social media, and other tech avenues, travelers can easily reach out to friends and family. Of course, you should be mindful of the time change if applicable, as FaceTiming someone in the middle of the night (their time) or during working hours can often catch people off guard. Otherwise, all you need is a strong internet connection or phone signal to relive some of the best moments of your trip and go over what you plan to do next. Chances are, discussing what you are looking forward to on the remainder of your solo escape will leave you feeling recharged and anything but bored.
Edit photos from your solo exploration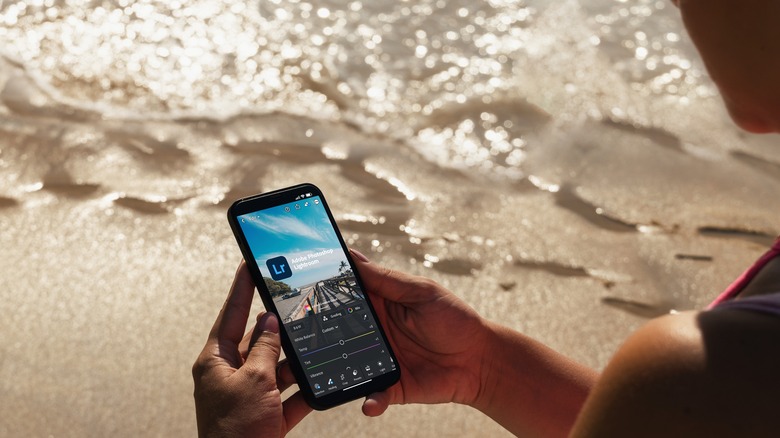 Speaking of the incredible time you are having, there is a reason why people say a picture is worth a thousand words. So while raving about your adventures with new and old friends or family, don't forget to show off your photos. Even if you are not overly passionate about photography, you probably still enjoy posting the good times or a picture here and there on your social media accounts (via The Zoe Report). Regardless of whether your goal is to truly capture the moment or show everyone what they are missing out on, you can take your photos to the next level with a few minor edits.
You will likely cherish photos that pop — like the ones that showcase just how delicious dinner was or how gorgeous the beach truly is in your destination — long after your solo vacation is over. So, if you have some downtime and nothing to do, consider editing your vacation pictures. There are many easy-to-use apps that allow you to edit your photos on your smartphone and tablet, including Snapsee, VSCO, TouchRetouch, Adobe Lightroom, and more (per CNET). This is a great way to pass the time that is enjoyable for all, especially for the shutterbugs.
Read or listen to music and podcasts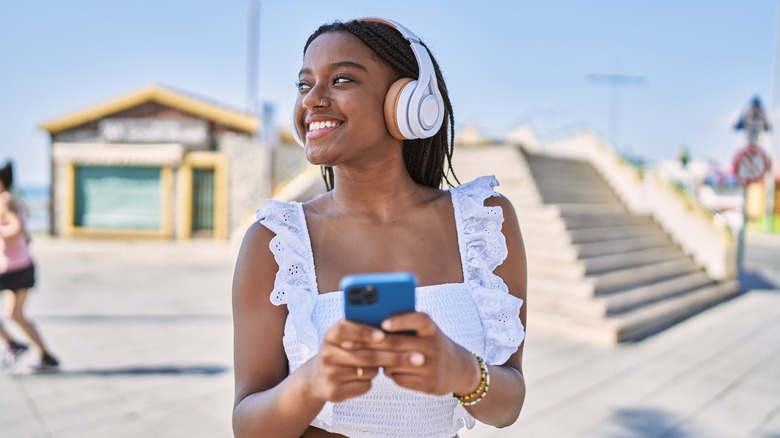 Creating a vacation playlist, downloading a podcast or two, and adding some reading material to your Kindle are always recommended when traveling. You never know when these things might come in handy. In fact, travel playlists actually help in a pinch if you are editing those vacation pictures for Instagram and need some inspiration for your videos or reels.
Of course, your handy podcasts, playlists, and reading materials do not have to have a dual purpose if you are bored. They are simply great tools to have when globetrotting alone, especially when you have some unexpected downtime (per Via Travelers). Solo travelers can relax listening to tunes or crime podcasts beachside, in a park, in their room, or on the go. For wanderers who prefer to catch up on some light reading, possibly poolside, on a boat, or near a canal, do yourself a favor and consider investing in a waterproof reader just in case (if you have not yet done so).
Practice the language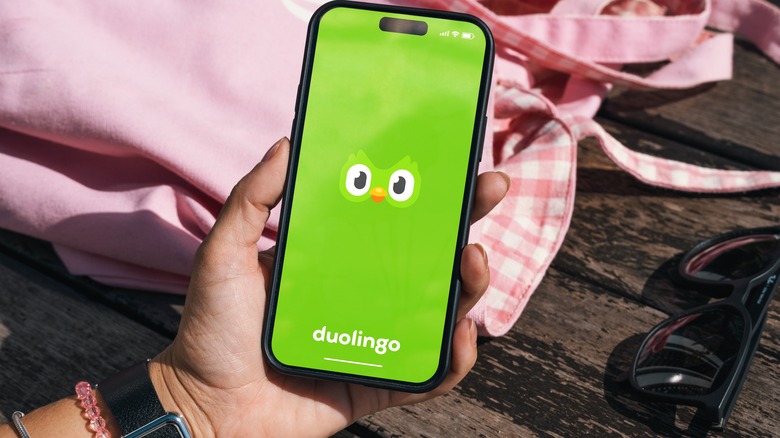 If you have jet-setted off to places where you need to learn common phrases or another language, then any boredom during your downtime can be used wisely. By practicing your pronunciation and learning even more about your destination's language, travel really does become easier. In fact, travelers who have even just the basics down are considerably better equipped to mingle with the locals and typically have less difficulty navigating their daily excursions (via Fluentu).
Many international destinations do speak English as a second, or sometimes third, language. But that does not mean you shouldn't bother with the basics. Often people are more receptive to visitors who at least try to speak the native language, and it is a wonderful way to truly experience a place's culture (per The Zoe Report). Plus, practicing the language while on your solo adventure is a good way to pass the time in moments of boredom, so do not be afraid to brush up on the go. Who knows — in time, you may just become fluent in another language, which could come in handy on your next vacation or later on down the road.
Delve deeper into your destination's culture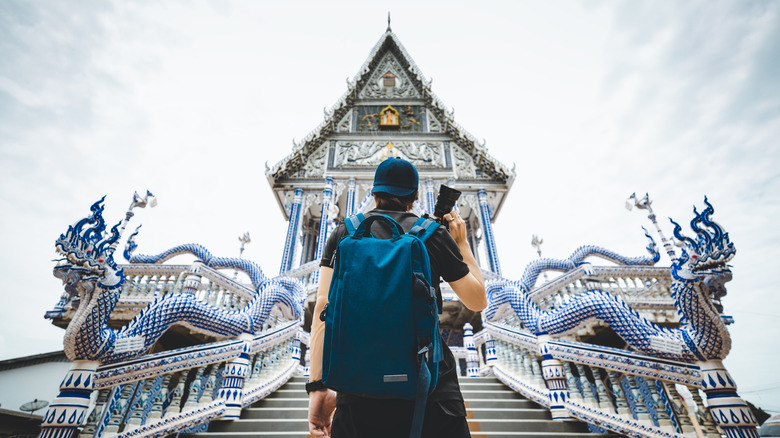 Solo travelers willing to go beyond just learning the basic phrases can also delve a little deeper into their destination's culture when feeling bored. Most countries, regions, and cities have their own rich and fascinating history and culture. Of course, on a solo adventure, you can spend your time doing whatever you like, and chances are you have experienced some of your destination's culture by this point. But why does the fun have to stop there? If you have extra time on your hands, then make the most of it — learn, see, taste, and do more.
Whether you spend your downtime trying new cuisine, marveling at your destination's beautiful architecture, exploring hidden gems, or embracing the local arts, you definitely won't be disinterested for long (per Beauty and Lace). Even if you are all museum-and-history-walking-toured out, you can still grab your camera and find other things that interest you. That is one of the nice things about traveling to far-off places: You get to experience life in a way that is different from your own.
Join free tours or take a class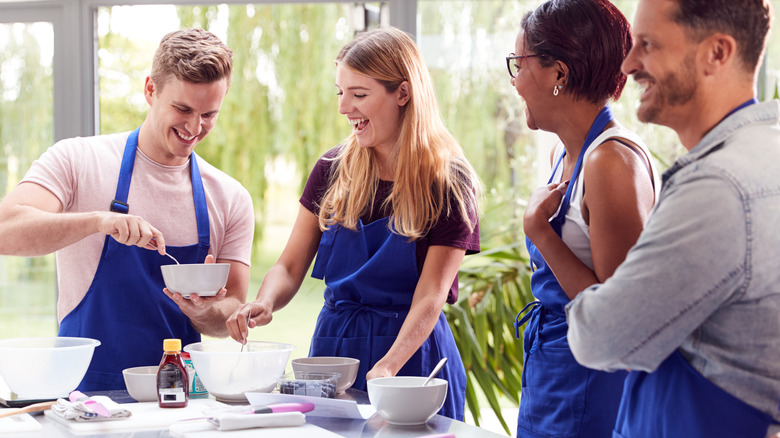 Solo wanderers experiencing boredom should also consider joining a free walking tour or opt for some type of class. Free walking tours are a great way to learn more about your destination, get a better sense of the city or location you are in, and even get in some exercise. There are usually a variety of free tours available in the most popular vacation spots. Though they are exclusively walking tours, more often than not, you can still immerse yourself in local history, folklore, true crime, festive walks, lush outdoor spaces, and so much more.
Likewise, signing up for a group class is another great way to keep busy. For instance, taking a cooking or baking class can expand your palate, teach you a fun new way of prepping food, and allow you to socialize with others with similar interests. That said, if the last thing you want to do while on your solo adventure is cook or bake, that is perfectly okay. Interested travelers can sign up for classes for just about anything — from flower arrangements, glass blowing, and woodworking to sailing, horseback riding, and even samurai skills. So, if you feel like you need something to do, check out the classes available in your location. In your quest for some group fun, you might just be surprised at how quickly you can make friends when trying out activities such as these (per Frayed Passport).
Get creative (literally)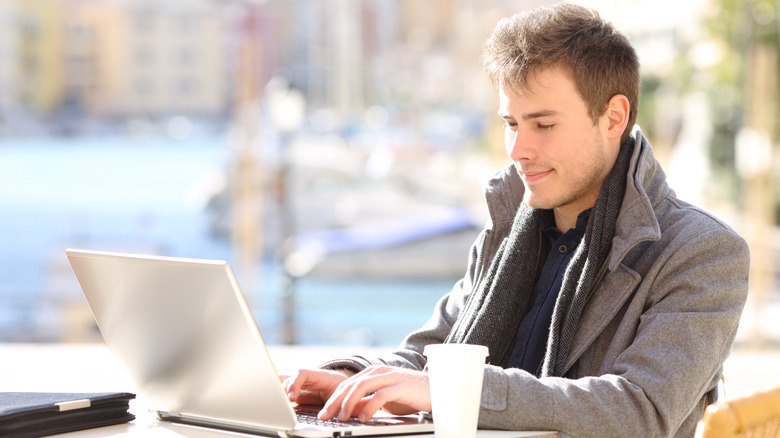 A little boredom is inevitable on any vacation. But, thankfully, there are ample activities that can make your chill time more enjoyable and far from boring, like getting creative, for instance. More than a few greats found their muses when exploring the world alone, so why can't you (via Oneika The Traveller)? If you like writing, drawing, playing music, or taking photographs, then use this time to get inspired and fill any unoccupied moments with your passions.
One of the best parts about letting your creative juices flow while on your solo vacation is that you may not even need to leave your hotel, resort, or hostel. You can simply find a great spot in or outside and get to work. For travelers who prefer to venture out to take photos of the sunset, sketch the scenery, or write the latest installment of their novel at a lovely little café, all you need to do is grab your gear or laptop and head out. Not only is this a good use of your downtime, but it is also a little to no-cost way to amuse oneself when feeling bored.
Play games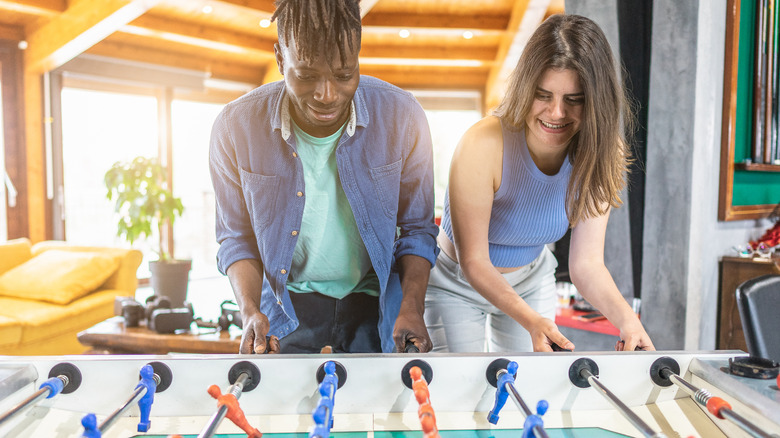 Of course, solo wanderers do not need to take their downtime so seriously. You left room in your jam-packed itinerary to decompress for a reason — mainly because traveling can be exhausting (per The Whole World Or Nothing). Think about it: You have been catching flights, hopping on and off public transportation, walking around the city, strolling through museums, and even engaging in some outdoor recreation. So, taking some time for yourself on vacation is perfectly acceptable, especially on a solo one.
Enjoying some relaxing you-time on a solo adventure can look like lounging on the beach, listening to music, catching up on some rest, or even playing a game or two. Sometimes, a game of crossword puzzles, Solitare, Tic Tac Toe, or Sudoku on your phone (smartphone and Ipad or tablet) is all you need to have a pleasant time when you are in between activities and feeling bored (via Vagabondish). And if you are staying at a larger hotel or hostel, there are likely games like oversized chess boards, pool tables, and more waiting for lone adventurers who prefer to decompress IRL (in real life).
Get in some exercise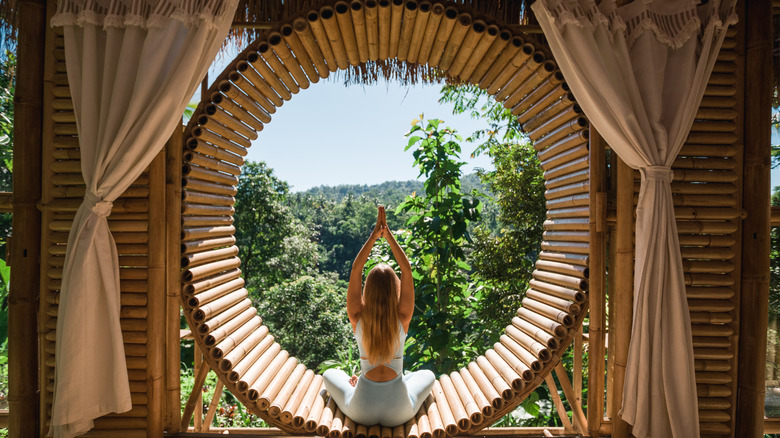 Playing games is one way to de-stress (particularly mentally) on vacation. But for some people, physical activity or exercise is what they need to truly take it easy for a spell. Not only is exercising an excellent remedy if you are feeling bored, but it is also a good idea for your overall health. In general, most travelers like to indulge a bit when away. So staying active allows you to enjoy more of the good stuff.
If you work out regularly or always pack some workout clothes for a vacation, then getting physical should not be a problem. You can head to a nearby gym (ask about a free or minimal-cost day pass), try out your hotel's gym, or grab your running shoes and enjoy the welcome change of scenery (per Medium). Other activities that can help you stay busy while still allowing you to decompress include yoga, swimming, and a whole host of other travel-approved exercise routines.
Go on a walkabout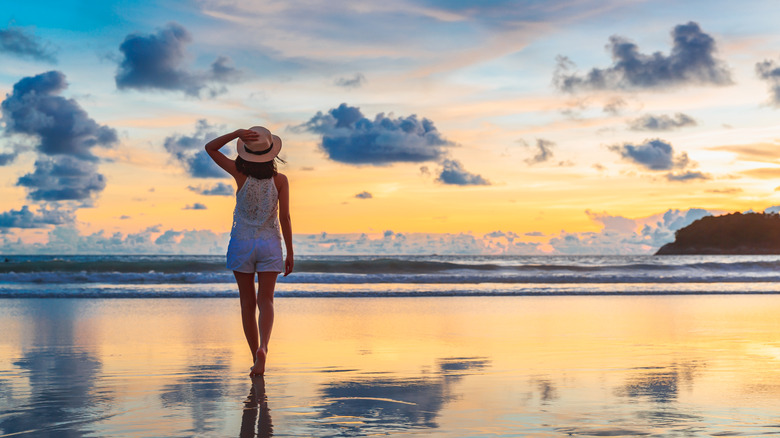 Likewise, solo travelers looking for an easy, no-fuss leisure activity to combat boredom can put on a comfortable pair of shoes and simply go on a walkabout. With sandy beaches, bustling city centers, gorgeous scenery, and a plethora of amazing attractions likely at your disposal, going for a stroll is not hard to do. So consider walking (not running) along the coast, wandering through lush parks, or going on a nature hike.
Self-guided walks are often extremely fascinating and more low-key than a guided walking tour. On your personalized walkabout, you can take the time to further appreciate your surroundings without trying to keep up with the group or being rushed to the next location. That said, if there is a nearby city or town that you want to explore, you may need to arrange transport first. But once you arrive at your intended destination, let your walkabout begin. You can also find a fun spot in town that is perfect for some good old-fashioned people-watching when you start to feel a little aimless (via Curls Enroute).
Treat yourself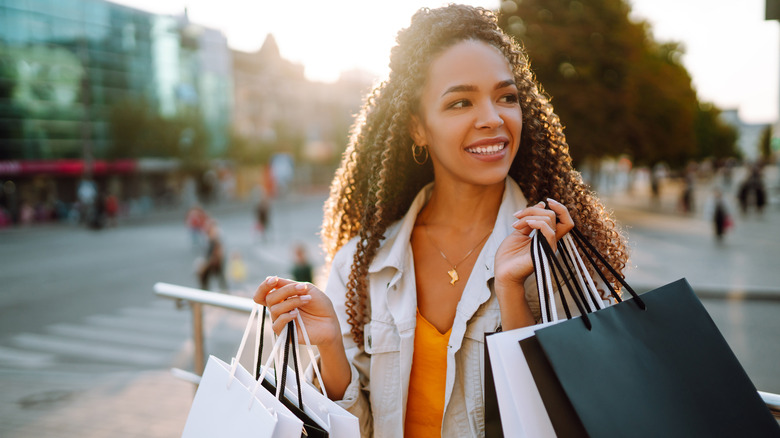 Lastly, if you are always on the go at home and while traveling alone, then why not embrace the boredom in style? Solo travelers should not be afraid to splurge a little or treat themselves, especially when it concerns their safety (per One Travel Girl). For instance, opting to stay at a semi-fancy hotel because you feel more at ease at these kinds of accommodations is your business and does not mean that you have already treated yourself. Instead, take your self-care a step further by booking a massage at your hotel's spa, watching TV, and ordering room service.
You can also treat yourself if you choose other accommodations like a hostel or Airbnb. Here, travelers can easily book a massage at a nearby spa, get dressed up and see a show, grab a bite to eat in one of the fancier cafés, or maybe do some shopping with only themselves in mind (those souvenirs for others can wait). No matter how you decide to pamper yourself when traveling solo, know that going to the places you want and doing the things you have always dreamed of is not you treating yourself — rather, it is you embracing life to the fullest on your terms. That said, splurging on yourself is always a good time, and is just one more way to combat boredom.