10 Items Better To Buy Than Pack
Sera Parris , Dec. 8, 2022 3:49 pm EST , 1,810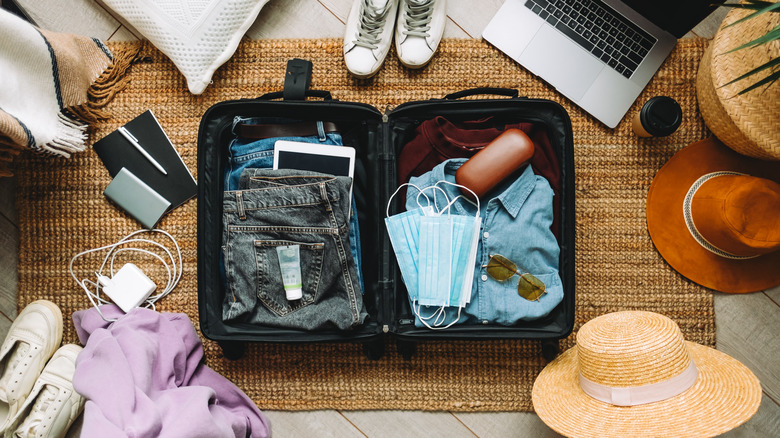 Knowing how to use your packing space wisely when traveling is a must. Still, most travelers tend to overpack in the hopes of being fully prepared for whatever their destination throws at them (via Good Housekeeping). But being overly prepared can quickly lead to an assortment of trip hiccups. What's more, when attempting to go above and beyond, it can be easy to forget something important or accidentally unpack travel essentials — which is never good.
Even if you're a savvy traveler who never veers from their packing list, you could still be guilty of adding non-essential items to your luggage that only weigh you down. So what can you do to ensure you have everything in preparation for your next trip? Well, besides subscribing to the "less is more" way of packing for your future travels, there are actually a handful of things you can do to put your best bags forward (via Business Insider).
If you've been relying on the same packing list for years, it's time to draft a new one. With newfangled travel accessories, hacks, and packing techniques backed by frequent travelers, your packing approach could be slightly outdated. Travel is all about adventuring, exploring, and experiencing something new — not worrying about if you've packed too many pairs of jeans or if your expensive conditioner exploded all over your stuff again.
Only pack the essentials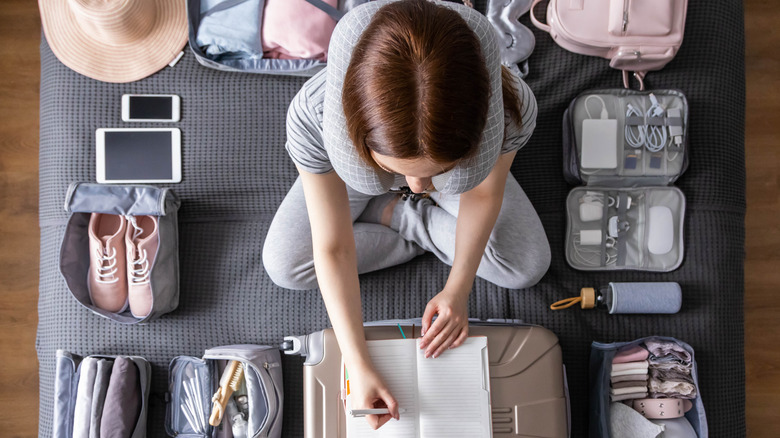 Travel essentials vary from person to person. But the must-haves usually include destination-appropriate clothing, a jacket, shoes, swimwear, underwear, medications, and toiletries for your specific needs (ex. contact solution or sensitivity toothpaste). According to CNET, the essentials also include things that make your overall travel experience more manageable (ex. charging phone case).
Once you have determined what your essentials are, the packing fun doesn't stop there. According to The New York Times, to pack a suitcase efficiently, you need to narrow down your clothing items or edit like no one's watching to ensure you're not adding any unnecessary duplicates. This is especially true if your suitcase happens to be on the larger side.
So for shorter trips, frequent travelers suggest sticking to two methods — the clothing countdown or the power of three. The clothing countdown method is when you opt for five pairs of socks, four shirts, three pairs of jeans, two pairs of shoes, and one blazer or dressy option. If you prefer to travel light, however, the power of three rule when packing clothing and other essentials is the way to go (via World Trips). Here, travelers should only pack a max of three for any item that they know they won't need every single day of their trip. For instance, pack only three pairs of shoes (dressy, casual, and active) and three pairs of jeans. Alternatively, for longer trips, experts recommend counting down from six and coordinating colors for a streamlined travel wardrobe.
Toiletry items that your hotel will likely provide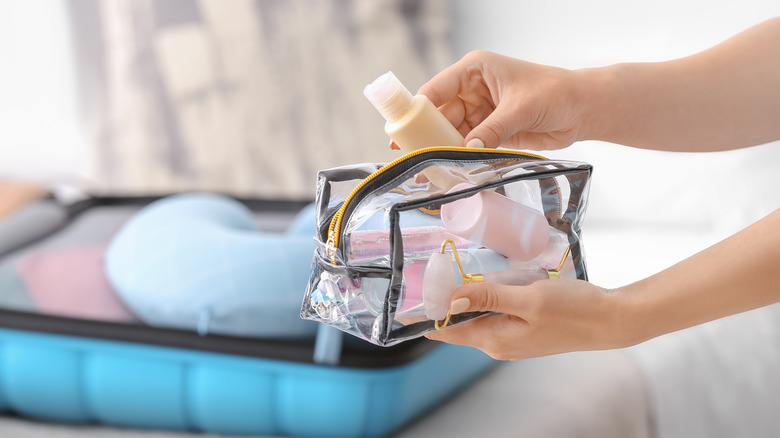 After streamlining your travel attire, frequent travelers recommend tackling your toiletries next. In general, packing your toiletries should be a breeze since most accommodations provide their guests with the basics like soap, lotion, body wash, conditioner, and shampoo. So there's no need to fill your toiletry bag to the brim, especially if you'll just end up using the hotel's products anyway.
However, if certain products you use fall under travel essentials, using the hotel's toiletries might not work. In this instance, opting for travel-sized toiletries is the clear way to go, even if your trip doesn't involve the airport. According to Real Simple, travel-sized products are crucial when saving space, even for longer stays. An added bonus with travel-sized toiletry items is that you don't have to opt for all liquids or creams either. Instead, savvy travelers should check to see if their must-have toiletries come in solid form. According to Travel Fashion Girl, you can get just about anything in bar form, including shampoo, conditioner, facial cleansers, body wash, and more.
Even if your favorite at-home brand doesn't come in a bar, consider trying some of these bar products to prevent potential spills and make room for must-haves. Most of these amazing bar toiletries can also be purchased at your destination. This way, you don't have to overload yourself with too much, and you can make packing more carefree (via Affordable Corporate Suites).
Blow dryers, curling irons, or other styling tools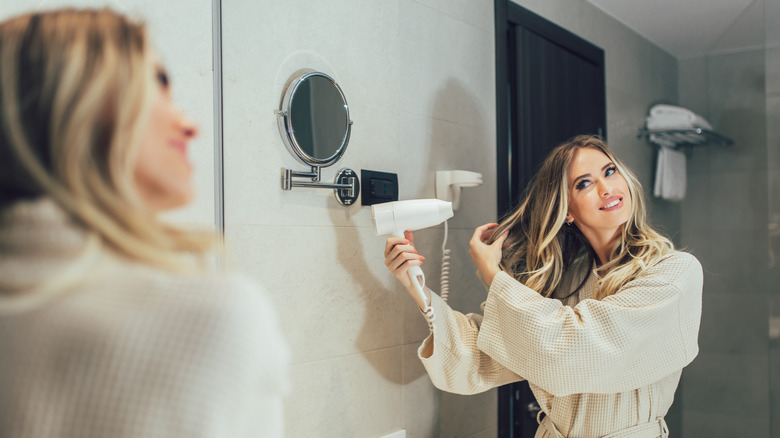 Similar to your toiletries, bringing all your at-home beauty, grooming, and makeup items just takes up crucial space in your suitcase and is often more trouble than it's worth. But one thing is for sure; you do not need to pack a blow dryer (via USA Today). Again most hotels and other comparable accommodations have blow dryers handy. For other styling tools, travelers should look into travel-sized options if they plan to pack something pre-trip.
That said, you may want to reconsider a mini styling tool purchase before you travel if you're looking to save on even more space. Instead, opt to buy affordable styling tools at your destination. A bonus here, in international destinations, styling tools purchased once you arrive will likely work better than your packed tools from home (that often struggle with the voltage change, even with the appropriate converter).
Yet another crazy solution to overpacking beauty tools is to schedule an appointment at your hotel's spa or nearby hairdresser. This is especially handy if you only need to look amazing for a single event or function. For budget-conscious travelers, purchasing one of those satin heatless curling sets, which allows you to style your hair while you sleep, can solve this dilemma, too (via Good Housekeeping). If you already own a heatless set, this item should have no trouble fitting in your carry-on or daypack.
Anything you don't need for the entire trip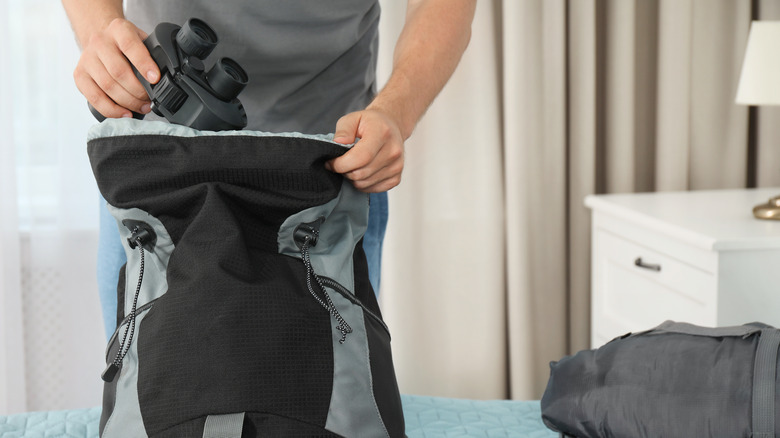 Speaking of one-off events or activities, travelers don't need to pack extras. Though it may be tempting to bring items for specific day trips, outdoor activities, or one-time-only events, try to refrain. Things like sun hats, multiple pairs of sunglasses, beach towels, and picnic accessories just make your bags bulkier. What's more, all this extra stuff takes up prime real estate in your suitcase. So, travelers should consider buying these items when they arrive at their destination.
It also doesn't hurt to see if your accommodations, tour guide, or planned event will supply you with these items. For instance, beach resorts tend to have beach towels for their guest, and wine-tasting events in the park will likely provide you with a picnic blanket. Motorcycle tours provide their participants with heavier jackets, helmets, and even gloves. So when you're booking activities, double-check with the tour company or shoot an email to your guide and find out beforehand.
Of course, if you're planning a hike or a different adventurous activity, you'll still likely need to pack the appropriate gear. The same can be said for destination weddings or functions with a particular dress code (via Her Packing List). But the final touches, little extras, and the bear spray definitely can be purchased on your trip and not packed.
Guidebooks, maps, and leisure reading materials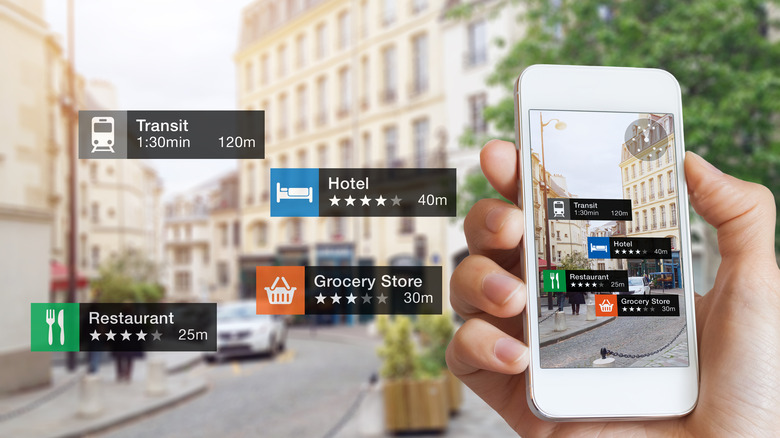 Once the must-haves and essentials are sorted, it's time to move on to your carry-on luggage. Here, essential items like medications, phone chargers, and extra clothing are often stowed. According to Business Insider, many travelers also throw in other helpful items like guidebooks, reading materials, and even maps. Though having these things can be beneficial, it's not an efficient use of packing space.
Since there's an app for everything these days, travelers don't need to pack or print any trip information. Guidebooks and reading materials take up precious carry-on space and aren't worth the hassle. Instead, travelers should purchase apps, e-books, and more on their electronic devices (via PC Magazine). Having everything you need on your device means you'll have a wealth of pertinent travel information at your fingertips and a lighter load to carry.
If storing everything on your electronic device isn't for you, online travel sites, hotel concierges, and tourist pamphlets are typically everywhere you turn. Likewise, if you don't want to pay for yet another app, do your research before you go. You can download dozens of travel apps and related info for free. Travelers can also take pictures of maps at their destination (subway, hiking trails, and bus routes) for later reference. And if all else fails, look around when you reach your destination; many souvenir shops, stores, and airports still sell these items. So you can still travel light and buy when you arrive.
Travel accessories for the weather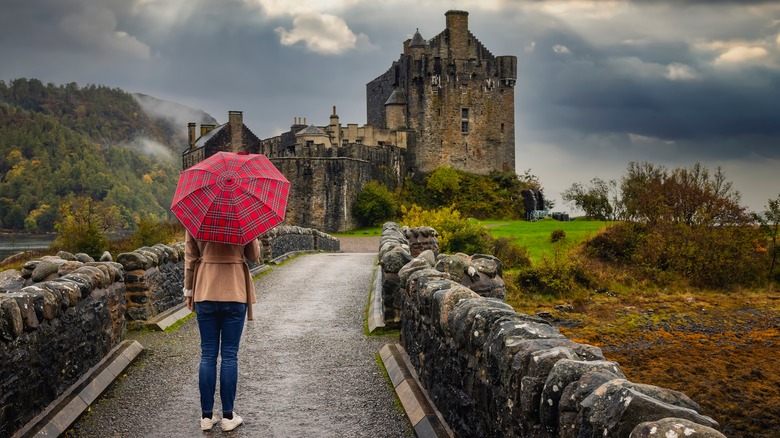 Being prepared for sudden changes in the weather is just one more attribute of a savvy traveler. But, being able to predict the "actual" weather is difficult no matter where you are, and bringing along items for every possible weather scenario is unrealistic. So what can you do in the event of rain, snow, or extreme weather changes once you're at your destination? It might take some practice, but it's best to address the changes as they come. The easiest way to do this is by purchasing items like umbrellas, ponchos, and extra sunscreen when needed at your destination (via Oyster).
Additionally, travelers can see what their hotel, Airbnb, or lodgings has on-hand. Being able to supply guests with these kinds of extras means better reviews and happier clientele. So don't be shy; ask and see what's available. That said, buying when you arrive makes more sense if you need warmer clothing, outerwear accessories, or a heavier jacket, especially if you didn't wear something heavy on the ride in. Basically, if there's no guarantee that you'll ever need these items during the trip, then don't pack them.
First-aid or medical supplies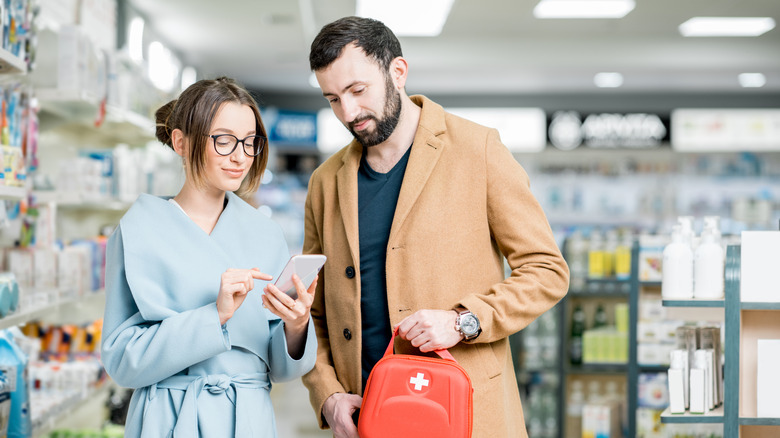 First-aid kits, OTC meds, tweezers, and certain medical supplies might seem like key essentials during the initial packing stages. But, the reality is that many of these items don't get the chance to make it through TSA without being heavily scrutinized or confiscated. Even if, by sheer luck, you're permitted to keep your first-aid and medical supplies, they often end up just being one more thing you have to lug around.
Moreover, if you decide to bring any of these things, whether in your checked bag, carry-on, or weekender bag, you'll likely find yourself fishing for said items when you need them the most. So instead of unpacking and re-packing just to hand someone a bandaid, get rid of the unnecessary clutter. Travelers can conveniently stop by the local drugstore for OTC meds, nail clippers, and anything else that falls under this category (via Her Packing List). Plus, you can — you guessed it — ask around where you're staying if you need something immediately and don't feel like popping into the local convenience store just yet.
Laundry detergent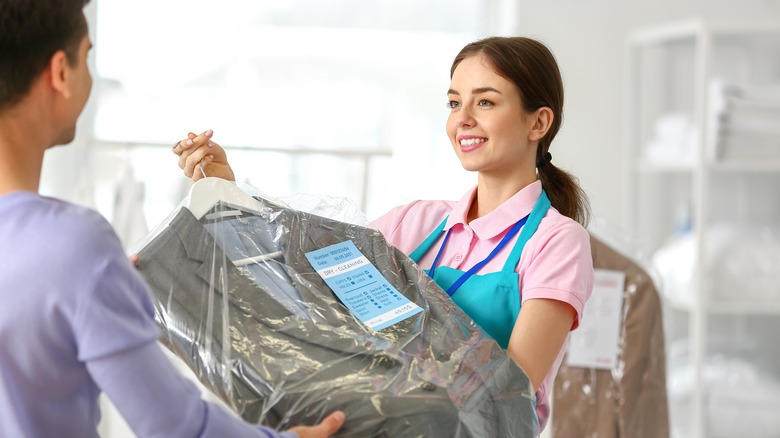 Yet another "should you or shouldn't you" pack item is laundry detergent. If you prefer to pack as little as possible, having travel-sized laundry detergent on-hand can be great in a pinch. Being able to wash clothing in the hotel sink and hang dry them overnight means you get more wear out of your clothes (via Nomad Paradise). But why would you bother when most hotels offer laundry services, or you can book stays that include a washer/dryer (with laundry soap)? Even if you're staying somewhere that doesn't offer these options or amenities, most destinations have affordable laundromats and nearby dry cleaners available.
Of course, if you want to save some of those vacation dollars and not have the added expense of laundry services, then there are more pack-friendly options you can take advantage of. There's a large variety of detergent sheets (both standard and eco-friendly), bars, pens, and strips that won't take up too much space. So if you don't mind hand-washing your clothes while on vacation, purchase these laundry detergent options pre-trip or if you need it when you arrive at your destination.
Snacks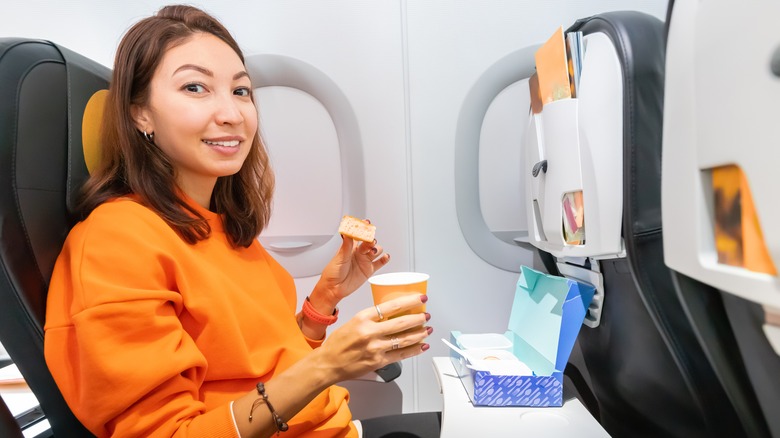 Snacks, fruit, and other eats for the road can come in handy, especially if you've been traveling all day. But, you might not have the opportunity to savor your snacks because most airports frown upon outside food and drink. Even when you grab something to tide you over in the terminal area, some destinations don't allow travelers to bring certain foods into the country. Plus, carrying around a lot of stuff with snacks can lead to accidents and dirty looks from other passengers.
What's more, there's still the potential for snack drama, even if your travel plans don't include the nearest airport. A simple snack for the road may now need to be enough for two, the whole travel group, or that one person who's just not themselves when they're hangry. Sure, exploring the world without your favorite snacks might initially seem challenging (via Oyster). But, in all scenarios, it's often easier to buy when you arrive or on the way. Holding off on the brought-from-home eats means you're less likely to forget other important items or make a mess. A bonus here, you may even find some new favorites. So, save space in your daypack by forgoing snacks, non-collapsible water bottles, and other bulk food items, whether you're traveling by car, plane, or train.
Multiple sanitizing products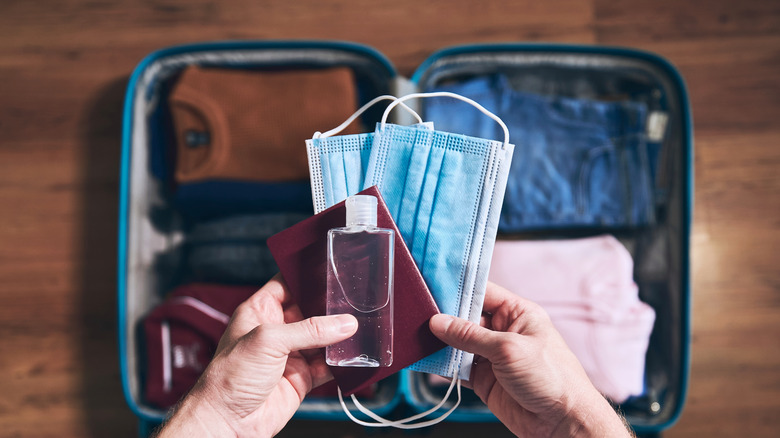 There's no denying that being able to sanitize your space when traveling is a must. But, these days, some travelers have gone overboard, to say the least. By all means, savvy travelers should have some sanitizer on their person, but packing multiple types throughout all your luggage is simply unnecessary. Instead, it makes more sense to have something while traveling and possibly some extra wipes or one or two bottles of sanitizer for later on — just make sure you don't pack your entire cleaning arsenal.
Airplane travelers should also relegate their cans of Lysol (travel-sized) to their checked bags. To avoid spills and to save space, disinfectant wipes are the most obvious choice for all travelers. Additional hand sanitizer is still available on planes, in major establishments, and at most hotels, so there's no need to pack more. You can also coordinate with your travel buddy to determine who will bring what to ease everyone's load (via Photo Quest Traveler).
Finally, travelers can also stop by the local convenience store for large Lysol cans or other sanitizing products. The nice thing about buying these products at your destination is that you can discard or leave them behind to make room for souvenirs or other great finds you purchased during your vacation.
Just in case items
At this point, you probably think you're either done packing or almost fully packed. Well, here comes the tricky part —those pesky "just in case" items. No one knows what tomorrow will bring, so why not add another pair of shoes in your checked bag or three more shirts just because? You saved all this room for this exact moment, and having these extras just means you're more prepared for whatever happens.
What savvy traveler doesn't have a few last-minute additions, right? But, so often, pride comes just before the fall. These extra items, no matter what they are, should be avoided if and when possible for several reasons. Being overly prepared could mean additional baggage fees or strained back muscles (via Travel Fashion Girl). Filling your luggage to the brim at the last minute could also mean breaking your bags or forgetting one of your essentials. And to top it all off, you may not even need the item when it's all said and done. So close your bags and avoid the hassle by buying the item(s) at your destination if and when you need.